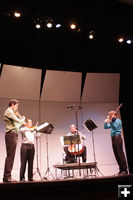 Turtle Island Quartet

The Turtles stop in Pinedale was part of a tour which saw the group head to Ogden, Utah following the Pinedale performance. Photos by Tim Ruland, Pinedale Fine Arts Council.


Turtle Island Quartet performs in Pinedale
by Tim Ruland, Pinedale Fine Arts Council
February 21, 2013

The Pinedale Fine Arts Council (PFAC) presented the two-time Grammy Turtle Island Quartet to an awesome Tuesday-night crown on Tuesday, Feb. 19th. Audience goers were treated to world-class string arrangements of John Coltrane and Jimi Hendric tunes, among others.

PFAC will conclude their season ticket series on March 20 with a full-scale production of Fiddler on the Roof. Tickets for Fiddler will go on sale March 5th and will most likely go fast!