Ultra Petroleum Corp. announces $700 Million offering of senior notes (posted 9/2/14)
To fund a portion cost of Pinedale gas field acquisition
Ultra Petroleum media release
HOUSTON, Sept. 2, 2014 /PRNewswire/ -- Ultra Petroleum Corp. (NYSE: UPL) today announced that, subject to market conditions, the company intends to offer $700.0 million in aggregate principal amount of senior unsecured notes due 2024 in a private placement pursuant to exemptions from registration under the Securities Act of 1933, as amended (the "Securities Act"). Ultra intends to use the net proceeds of this offering to fund a portion of the purchase price of its recently announced Pinedale field acquisition.

The securities to be offered have not been registered under the Securities Act or any state securities laws, and unless so registered, the securities may not be offered or sold in the United States except pursuant to an exemption from, or in a transaction not subject to, the registration requirements of the Securities Act and any other applicable state securities laws. The securities may be resold by the initial purchasers pursuant to Rule 144A and Regulation S under the Securities Act.

This notice is being issued pursuant to Rule 135c under the Securities Act, and is neither an offer to sell nor a solicitation of an offer to buy the notes or any other securities. There shall not be any sale of the notes or any other securities in any state or other jurisdiction in which such offer, solicitation or sale would be unlawful prior to registration or qualification under applicable laws.

About Ultra Petroleum
Ultra Petroleum Corp. is an independent energy company engaged in domestic natural gas and crude oil exploration, development and production. The company is listed on the New York Stock Exchange and trades under the ticker symbol "UPL".

Related Links:
Ultra Petroleum media release September 2, 2014
Ultra issuing $700M in debt to finance Pinedale acquisition By Mark Wilcox, Wyoming Business Report, September 2, 2014
---
Grizzly Bear relocated from north of Pinedale (posted 8/28/14)
Adult male bear killing livestock
Wyoming Game & Fish
The Wyoming Game and Fish Department trapped and relocated an adult male grizzly bear August 27, 2014.

The bear was captured for killing livestock on a U.S. Forest Service grazing allotment north of Pinedale, Wyoming. In cooperation with the U.S. Fish and Wildlife Service and the Shoshone National Forest, the bear was relocated to the Mormon Creek drainage approximately five miles from the east entrance of Yellowstone National Park within the North Fork of the Shoshone River drainage west of Cody. The release site is located in currently occupied grizzly bear habitat.

Grizzly bear relocation is a management tool afforded bear management personnel to minimize conflicts between humans and grizzlies. The decision to relocate and the selection of a relocation site is made taking into consideration the age, sex, and type of conflict the bear was involved in. Since grizzly bears are listed as "Threatened" under the Endangered Species Act, consultation with the U.S. Fish and Wildlife Service and the appropriate land management agency is also made to minimize the chance of future conflicts and maximize the survival potential of the relocated grizzlies. Bears are relocated in accordance with federal law and regulation. When selecting a relocation site, the department makes every consideration to minimize potential conflicts with livestock and people.

Bears can create conflicts after they have obtained food rewards. The department continues to stress the importance of keeping all attractants (food items, horse feeds, bird seed, and others) unavailable to bears. Reducing attractants reduces human-bear conflicts.

---
New charges filed in Pinedale serial assault cases (posted 8/28/14)
Brian McDonald alleged perpetrator
Sublette County Sheriff's Office media release
New charges have been filed against thirty seven year old Brian James McDonald. Mr. McDonald was being held on charges stemming from the 2010 assault on Jacie Rose that occurred in Pinedale.

The ongoing investigation by the Sublette County Sheriff's Office has resulted in information that is the basis for the new charges. The charges originally filed against Mr. McDonald on July 14thhave been dismissed and refiled along with indictments for two other assaults that occurred in October of 2012 and May of 2014.

Authority: Sheriff Dave Lankford

Stephen Smith, Public Information Officer

Related Links:
Preliminary Hearing held for Brian McDonald July 22, 2014
Suspect charged with five counts related to 2010 attack on Pinedale woman July 14, 2014
Arrest made in 2010 assault case July 11, 2014
$10,000 Reward offered for info about May 28th violent attack June 3, 2014
Assailant still at large in attack on Pinedale woman May 28, 2014
Assault reported in Pinedale October 25, 2012
$10,000 Reward for July 25 Assault August 5, 2010
Pinedale woman assaulted in her home July 26, 2010

---
Public Hearing to address Instream Water Rights for Hoback and Greys watersheds Sept. 10 in Jackson (posted 8/27/14)
Wyoming Game & Fish
The Wyoming Game and Fish Department will be participating in a public hearing on 10 instream flow water right applications in the Hoback and Greys watersheds. The hearing will be held at the Jackson regional office, 420 N. Cache, at 9 a.m. Wednesday, Sept. 10.

The hearing is being held by the State Engineer's Office to receive comments and evidence of injury or benefit to existing water rights. For each application, the Wyoming Game and Fish Department conducted detailed fishery and habitat studies in the proposed stream segment and developed recommendations for flow needed to sustain habitat for native Snake River cutthroat trout. The hearing will include a presentation on the findings of these studies as well as a report by the Wyoming Water Development Office on the availability of natural stream flows to satisfy the requested water rights.

---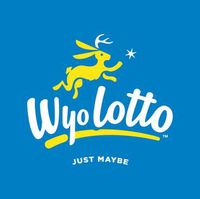 Wyoming now sells lottery tickets.

Wyoming Lottery begins (posted 8/25/14)
Pinedale Online!
WyoLotto, the Wyoming Lottery, began selling tickets on Sunday, August 24th.

Wyomingites can now participate in the multi-state Powerball and Mega Millions, along with smaller dollar winning games, with the hopes of winning millions of dollars. WyoLotto reported they had $198,612 in lottery sales on first day, $1,000 in sales per minute on Monday.

Prizes under $600 can be claimed at any WyoLotto retailer. Prizes over $600 must be claimed at the Wyoming Lottery headquarters in Cheyenne.

Wyoming Lottery net revenues are distributed by the state to Wyoming's cities, towns and counties and deposited into the state's Permanent Land Fund's Common School Account. Except for operating expenses and winner payouts, all of the money the Wyoming Lottery takes in goes back to the state of Wyoming.

The first drawing for Mega Million will be on Tuesday, August 26th with an estimated $15 million jackpot. Purchasers must be 18 years of age or older to buy a lottery ticket.

Lottery retailers receive 6% of their net sales for selling lottery tickets, redeeming lottery prizes, and other activities required by the Wyoming Lottery Corporation. Lottery retailers get an additional 1% for all tickets validated on the lottery terminal and within their establishment.

The Wyoming Lottery was created when House Bill 77 was passed in Wyoming's 2013 legislative session. The Lottery operates as a private business and does not employ state employees or use state tax money. The Wyoming Lottery Corporation consists of a nine-member Board of Directors appointed by the Governor. Operations are managed by a board-appointed CEO and a support staff.

Related Links:
www.wyolotto.com
---
New regulations for upland game bird hunters (posted 8/25/14)
For Blue and Ruffed Grouse
Wyoming Game & Fish
With the September 1 opener for upland game right around the corner, bird hunters are alerted there are some significant changes in the hunting regulations for this fall.

Beginning September 1 the combined daily bag limit and possession limit for blue and ruffed grouse has been eliminated and upland game bird hunters will be allowed to take a daily bag limit of three blue grouse and a daily bag limit of three ruffed grouse. The possession limit for each species will be nine.

Now that hunters are allowed to take separate daily bag limits of blue grouse, ruffed grouse, chukar partridge, gray (Hungarian) partridge or sharp-tailed grouse, hunters will need to retain evidence of species on all game birds in their possession while in the field. The new regulation states that, excluding pheasants, one fully-feathered wing shall remain naturally attached to the carcass of ANY upland game bird in the field and during transportation. Hunters have always had to retain evidence of sex and species on each pheasant harvested by having the feathered head, feathered wing or foot naturally attached to the carcass of a pheasant while in the field and during transportation.

"There are no wild pheasant hunting in southwest Wyoming, but hunters do have the opportunity to hunt blue and ruffed grouse, as well as chukar partridge, gray partridge and sage grouse," Green River Wildlife Management Coordinator Mark Zornes said. "The new law requires that hunters keep one fully-feathered wing naturally attached to the bird carcass in the field and during transportation for identification purposes. This is a change from previous years and we just want game bird hunters to be aware of the new regulation."

Sage grouse hunters are reminded that Game and Fish biologists collect wing information each year from harvested birds. Sage grouse hunters are asked to place one wing from each harvested sage grouse in wing barrels for data collection. So, remember to leave one wing attached to the carcass and please put the other wing in the barrel.

The statewide hunting season for blue and ruffed grouse opens September 1 and closes November 30, 2014. For chukar and gray (Hungarian) partridge the statewide season opens October 1, 2014 and closes January 31, 2015. The sage grouse season in Hunt area 1 opens September 20 and ends on September 30.

If hunters have any questions regarding the upland game bird regulations they are encouraged to contact their local game warden, wildlife biologist, or the Green River Game and Fish Regional Office at 307-875-3223.

---
Boaters reminded of Aquatic Invasive Species requirements (posted 8/25/14)
Wyoming Game & Fish
In an effort to keep Wyoming waters free from harmful aquatic invasive species (AIS) such as zebra and quagga mussels, the Wyoming Game and Fish Department has created a program, including regulations, to prevent these species from entering the state on watercraft. To fund the program, all watercraft users, with a few exceptions, are required to purchase an AIS decal before boating on Wyoming waters. Exceptions include inflatable boats 10 feet or less, paddleboards or similar water toys. Wyoming Game and Fish personnel report encountering a number of boaters without their AIS decal in recent weeks. The decal can be purchased online on the Game and Fish website at: https://wgfd.wyo.gov/elso/elsoaiswelcome.aspx.

Furthermore, Wyoming state regulations require that any watercraft transported into Wyoming from March 1 through November 30 must undergo a mandatory inspection by an authorized inspector prior to launching in any water of the state. Any watercraft that has been in a water infested with zebra or quagga mussels within the past 30 days is required to undergo a mandatory inspection by an authorized inspector prior to launching year-round.

"AIS boat inspection stations are being operated at several locations including ports of entry, border locations, and boat ramps," said Chris Wight, Game and Fish AIS supervisor for the Jackson Region. "We try to make everyone's stop a brief one, but all watercraft must stop as it is required by law."

For people wanting to launch watercraft in northwest Wyoming, there will be permanent inspection stations at the Port of Entry in Alpine near the junction of US-89 and US-26, and at the rest area in Thayne along US-89. There will be additional check stations operating on a rotating basis. These include the Sleeping Indian turnout on US-89 just north of Jackson in Grand Teton National Park as well as major boat ramps on Jackson Lake.

Check stations for Sublette County will include the access road to Fremont Lake as well as the major boat ramps on New Fork, Boulder, Half Moon and Willow Lakes. Information on inspection stations, including location, dates and hours of operation, may be found online at: http://wgfd.wyo.gov/web2011/fishing-1001292.aspx or by calling 1-877-WGFD-AIS.

Wight said most AIS inspection stations will be staffed seven days a week and will be open most daylight hours. For those boaters planning to go out of state after boating on Wyoming waters, and plan to return before a Game and Fish inspection station is open, you may do the following:

• You may stop by any AIS inspection station on your way off the water to have your boat inspected. A wire seal will be placed on your boat to connect it to the trailer and you will be provided with a paper receipt to document your inspection. You may launch on any Wyoming water at any time; just remember to remove the seal before you launch and keep the broken seal and receipt in your possession while on the water.

• If you do not get your boat inspected and a seal attached prior to leaving Wyoming, your watercraft must be inspected each time you enter the state. The inspection is not good for the entire season or trip. If you travel with your boat out of state, it must be inspected before you launch each time. Several other western states have also implemented AIS inspection programs. Many of these state inspections are valid in place of a Wyoming inspection. Inspections performed by Colorado, Utah, Oregon, Idaho and Montana that issue boaters a seal and receipt are accepted in Wyoming.

• Private certified inspectors may conduct watercraft inspections on their own watercraft, as well as provide these services to others. It is at the private inspector's discretion whether to provide these services for free or for a fee. The hours of operation, addresses, and contact information for Wyoming AIS-certified locations will be available at: http://wgfd.wyo.gov/web2011/fishing-1001292.aspx.

• You may receive an AIS inspection and have your boat sealed at a Game and Fish certified location. Certified inspection locations will be posted and updated regularly at wgfd.wyo.gov/AIS.

• If you are transporting any watercraft (motor boats, rafts, drift boats, kayaks, etc.) you must stop at any open AIS inspection station you encounter. When inspection stations are open, signs will direct vehicles transporting watercraft to the location. Even if you have a seal on your boat, you must stop in at the check station so the inspector can verify that the seal and your receipt match.

Wight said there are many ways invasive mussels could end up in Wyoming waters. Boaters who practice "drain, clean, and dry" will help keep invasive species out of Wyoming. "Invasive mussels can attach to boats as juveniles or adults and larvae can be transported in water in the bilge, live well, or motor of a boat," Wight said. "These larvae can infest new waters if watercraft owners do not drain, clean, and dry their watercraft before launching.

It is recommended that all water be drained from boats including the motor, bilge, live well, and ballast areas. In addition, all mud, plants, and debris should be cleaned from boats and trailers. The plants can be invasive and both mud and plants can harbor other AIS.

Finally, all watercraft should be dried after every use. It is recommended to dry for at least 5 days in the hot summer, 18 days in the spring or fall, or 3 days in the winter when temperatures are freezing.

"The bottom line is boaters should always expect to have their watercraft inspected, so make sure to purchase the AIS decal and drain, clean, and dry all watercraft ahead of time," said Wight. "This program is relatively young and we all continue to learn together in order to prevent these invasive species from entering Wyoming waters."

For more information, it is recommended to visit the Game and Fish website at: http://wgfd.wyo.gov/web2011/fishing-1000206.aspx or call the statewide toll free number (877-WGFD-AIS, 877-943-3247) to help answer any questions you might have.

---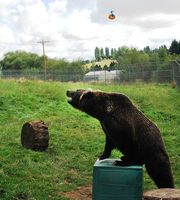 The grizzly bear moves a box under the treat in order to use it as a footstool for higher reach. Photo by Linda Weiford, WSU News

Grizzly Bears use tools? (posted 8/24/14)
Washington State University
In a first-ever study, researchers at Washington State University are examining whether grizzly bears make and use tools. And while it's too soon to reach a broad scientific conclusion, at least one female bear is demonstrating that, yes, she definitely can.

Information gleaned from the study can be used to help wildlife managers better solve grizzly-related challenges and problems, according to researchers, and also assist zookeepers in keeping captive bears mentally and physically stimulated.

The study, being conducted at WSU's Bear Research Education and Conservation Center, is documenting eight grizzlies faced with the challenge of getting their claws into a dangling food snack that's too high to reach. No training is involved. The researchers are chronicling innate learning behavior.

"While it's generally accepted that grizzly bears are intelligent creatures, until now no scientific research had been conducted on their problem-solving skills," said WSU veterinary biologist Lynne Nelson, who is overseeing the study.

In WSU's controlled setting, eight brown bears—three males and five females—are being tested separately and are at various phases of the experiment, said Nelson. To date, a 9-year-old grizzly named Kio has sailed through each phase, essentially nailing the hypothesis that the species is capable of tool use.

Here's how the study works: Inside the grizzly bears' play area, a donut is hung on a string from a wire, too high for the animals to reach. First, each bear is tested to see if it will stand on a sawed-off tree stump to reach up and get the donut down. Once this is mastered, researchers move the stump away from the hanging donut and place it on its side.

Here's where things get challenging. The bear must move the stump until it is positioned underneath the donut and then flip the stump over into a makeshift footstool.

All of which Kio mastered early on: "She manipulates an inanimate object in several steps to help her achieve a goal, which in this case is to obtain food," said Nelson. "This fits the definition of tool use."

The other grizzlies are in the process of figuring out the feat, she explained, which confirms what the center's scientists have long suspected about the keen brain power of bears. Frequently, Nelson and her colleagues witness grizzlies doing remarkable things, including using a single claw in a key-like manner to try to open locks.

Why should humans scientifically assess tool use among America's greatest predators?

"If grizzly bears are capable of using tools to interact with their environment, that's important for us to know because it provides a fuller picture of how they think," said WSU veterinary student Alex Waroff, who designed the study and who, with Nelson, tests the bears five mornings a week.

"By better understanding their cognitive abilities, we can help reduce encounters that can turn deadly for bears and humans alike," he said.

Such understanding also could shed light on whether the species is capable of manipulating its environment when faced with changes in the wild, such as shifts in habitat conditions or declining food sources, he explained.

As Nelson points out, most of the center's grizzly bears were deemed "problem bears" in the wild and were brought to WSU as an alternative to being shot and killed.

"Grizzlies are smart foragers and they'll work hard to get at food – which, as we're seeing, can include some pretty sophisticated strategies," she said.

The glazed donuts, donated by a local grocery store, are used to entice the bears for the study and aren't part of their normal diet, said Nelson.

"Yes, they like sweets – just like humans," she said. "But we're careful to restrict their intake."

The study is expected to be completed this fall.

Click on this link for more on this story.

---
WY seeks to intervene in Wild Horse case (posted 8/16/14)
Wyoming Governor Matt Mead press release
Wyoming is seeking to intervene in a lawsuit brought against the Bureau of Land Management (BLM) by wild horse advocates who are challenging the BLM's decision to remove wild horses from private lands in southwest Wyoming. The BLM's decision complies with an agreement between the BLM and a group of local ranchers. The area involved is part of the checkerboard where private, federal and state lands are intermingled.

"I want to step in to protect the value of Wyoming's land, defend our sovereign right to manage our wildlife and support ranching families," Governor Mead said. "We are not against having wild horses on the public lands but they need to be managed appropriately. They must not damage the land or wildlife or conflict with the rights of private property owners. The BLM has a plan in place and it should be implemented."

The State of Wyoming owns approximately 62,000 acres in the area. Wyoming's mission for its State Trust Lands is to effectively manage natural resources and the funds generated from those state lands for current and future generations. Revenue from those lands goes to schools.

In the motion to intervene the State points out that it leases land to ranchers, but livestock are managed, are on the land for only a few months and remain only if there is adequate forage. Wild horses stay on the land year-round and increased populations of the horses inhibit the State's ability to get the full value of the leases to benefit schools. Additionally, other wildlife can suffer, including some local sage-grouse populations.

---
Business Directory
Click here for
Advertising Information