Wolf ruling impacts grizzly delisting (posted 12/13/17)
Cat Urbigkit, Pinedale Online!
The U.S. Fish & Wildlife Service (Service) is seeking public comment on a federal appeals court ruling that may impact the agency's final rule delisting grizzly bears in the Greater Yellowstone Ecosystem. The deadline for comments is January 8, 2018.

Grizzly Impact
In 1975, the Service listed the grizzly bear under the Endangered Species Act as threatened in the lower 48 United States, and on June 30, 2017, the Service published a final rule designating the GYE population of grizzly bears as a Distinct Population Segment (DPS), finding that the DPS was recovered, and removing that DPS from the Federal List of Endangered and Threatened Wildlife. The final rule became effective on July 31, 2017, and remains in effect. Grizzly bears in the remaining area of the lower 48 States remain listed as threatened under the ESA as amended. The status of any grizzly bear population may be changed only through formal rule making.

On August 1, 2017, the Court of Appeals for the District of Columbia Circuit issued a ruling, Humane Society of the United States, et al. v. Zinke et al., that affirmed the prior judgement of the district court vacating the 2011 delisting rule for wolves in the Western Great Lakes (WGL). The 2011 rule designated the gray wolf population in Minnesota, Wisconsin, and Michigan, as well as portions of six surrounding States, as the WGL DPS, determined that the WGL DPS was recovered, and delisted the WGL as a DPS.

This court opinion may impact the GYE final rule, which also designated a portion of an already-listed entity as a DPS and then revised the listed entity by removing the DPS due to recovery. Therefore, we are reviewing the potential implications for the GYE final rule in light of the Humane Society ruling.

According to the notice seeking comment, FWS is "interested in public input on whether the Humane Society opinion affects the GYE grizzly bear final rule and what, if any, further evaluation the Service should consider regarding the remaining grizzly bear populations and lost historical range in light of the Service's decision regarding the GYE grizzly bear." The federal agency is clear that it is interested only in comments pertaining to the impact of the wolf ruling on GYE grizzly bear delisting.

The Wolf Case
A three-judge panel of the U.S. Court of Appeals for the District of Columbia sided with the Humane Society of the United States in overturning the delising of wolves in the Great Lakes region.

Notable portions of the decision (citations omitted) include:
• The district court held that the Service's decision to delist the Western Great Lakes segment failed to adequately address the wolves' loss of historical range. Because the Service's interpretation of "range" as focusing on "current range" is reasonable, we uphold it. But because the Service categorically excluded the effects of loss of historical range from its analysis, we hold that the Service's conclusion about the ongoing threat to the Western Great Lakes segment within its current rage was insufficiently reasoned, and therefore arbitrary and capricious.

• We hold that the Service's analysis of the status of the Western Great Lakes segment within its current range wrongly omitted all consideration of lost historical range. Just because the Endangered Species Act does not compel the Service to interpret "range" to mean historical range, that does not mean that the Service can brush off a substantial loss of historical range as irrelevant to the species' endangered or threatened status. So says the Service itself: The Service's Range Policy is explicit that a species may be "endangered or threatened throughout all or a significant portion of its current range because [a] loss of historical range is so substantial that it undermines the viability of the species as it exists today."

• Despite immense losses in the gray wolves' historical range—including the historical range of those wolves now occupying the Western Great Lakes area—the Service nowhere analyzed the impact of that loss on the survival of the gray wolves as a whole, the gray wolves remnant, or the Western Great Lakes segment. Such a failure to address "an important aspect of the problem" that is factually substantiated in the record is unreasoned, arbitrary, and capricious decision making.

• An important factor—the possible enduring consequences of significant loss of historical range— was left out of the analysis all together.

• The Service also argues that the Act does not require the restoration of a species to its entire historical range. Okay. But giving adequate consideration to the effects of large losses of historical range on a species' survival going forward has nothing to do with where geographically a species must be restored. The only obligation at issue here is for the Service to contend with the implications of massive range loss for the species' endangered or threatened status within its current environment.

Please see the link below for further details and documents regarding this issue.

Related Links:
Federal Register documents - Read all the details here.
---
Colorado wolf reintroduction (posted 12/13/17)
Cat Urbigkit, Pinedale Online!
The Rocky Mountain Wolf Project is trying to build public support for reintroducing wolves to western Colorado. Some of the faces will be familiar to those who followed the wolf reintroduction program to Yellowstone National Park and Central Idaho.

Members of the group's science advisory team include Ed Bangs (formerly with the U.S. Fish & Wildlife Service), Doug Smith of Yellowstone National Park, Mike Phillips of the Turner Endangered Species Fund, and Carter Niemeyer (formerly with USDA Wildlife Services, then with FWS).

Environmental groups supporting the project include Defenders of Wildlife, Western Watersheds Project, Natural Resources Defense Council, Wild Earth Guardians, National Wolfwatchers Coalition, Colorado Sierra Club, and the Center for Biological Diversity.

To learn more, check out the links below.

Related Links:
Colorado wolf reintroduction - Rocky Mountain Wolf Project
Wolf Watch - by Cat Urbigkit, Pinedale Online!

---
Wolf News Roundup 12/10/2017 (posted 12/10/17)
Cat Urbigkit, Pinedale Online!
Wyoming hunt
The Wyoming Game & Fish Department reports that by Friday afternoon, Dec. 8, there have been 40 wolves taken in the fall wolf trophy hunting season (of a total quota of 44-note correction), and a total of 30 wolves taken in Wyoming's predator zone so far this year. The predator zone count includes wolves taken by hunters, wolves removed for livestock depredations, and other legal and illegal human-caused mortality.

Montana monitoring
The days of capturing and placing radio collars on wolves in Montana may soon be coming to an end, as the state moves toward a new monitoring system. Using exiting monitoring data, the state may adopt patch occupancy modeling, dividing the state into grids the size of wolf pack territories, and using hunter surveys to learn if those grid cells are occupied by wolf packs.

Idaho data
Idaho wildlife officials are fighting a court order to destroy data obtained from tracking data on elk and wolves. The court determined that the helicopter crew placing those collars had illegally landed in a wilderness area, and ordered the destruction of all data that had been collected from the resulted tracking. Read the Associated Press report linked below for details.

Great Lakes
Wisconsin wildlife officials trapped and killed a wolf in the Superior region this fall after the animal repeatedly approached a group of workers. The wolf was part of a local wolf pack, and the individual wolf The wolf population on Isle Royale has declined to just one wolf. The last wolf appears to be a female, the last of a severely inbred population. The National Park Service is moving forward with plans to reintroduce wolves back onto the island. It demonstrated no fear of humans. Wisconsin's wolf population now numbers nearly 1,000 animals.

Mexican Wolves
Environmental groups filed a notice of intent to sue the U.S. Fish & Wildlife Service over its just-released wolf recovery plan for Mexican wolves. They take issue with the plan's recovery goal of 320 wolves in the wild, and maintain that number needs to be at least 750 wolves.

Ontario caribou
Endangered caribou on an island in Lake Superior will be live-translocated off the island in attempt to save the population from wolves. The caribou herd dropped from 680 after a small group of wolves crossed an ice bridge from the mainland to the island in 2013. The endangered caribou population now numbers only 120 animals.

Related Links:
Wyoming hunts - Wyoming Game & Fish Department
Montana monitoring - Daily Inter Lake
Idaho data - Associated Press
Isle Royale - Detroit Free Press
Wisconsin wolf killed - WPR.org
Mexican wolves - Groups to sue
Ontario - TheRecord.com
Wolf Watch - By Cat Urbigkit, Pinedale Online!
---
Game & Fish catches up to mule deer poacher and files charges (posted 12/9/17)
Still seeking information on second poaching incident
Wyoming Game & Fish
PINEDALE, WYOMING - The Wyoming Game and Fish Department reports that they have caught up with the individual who illegally shot a buck mule deer south of Pinedale recently. The buck was killed Sunday, November 12, along the Boulder Lake Road. The mule deer hunting season there closed on October 6. The deer was seized and the individual has been charged with taking a deer out of season and shooting from a public road.

"I would like to send out a huge thank you to the individuals from local and surrounding communities who assisted in bringing this case to closure," said South Pinedale Game Warden Jordan Kraft. "We often rely on tips and information from the public regarding wildlife violations and this case is a good example of the public and Game and Fish personnel working together to protect Wyoming's wildlife."

However, Game and Fish officials are still seeking information on a second buck mule deer that was illegally shot northeast of Buckskin Crossing, off of the Lander Cut-Off Road (CR 23-132) near Long Draw. It is believed the deer was likely killed November 9 or 10. The buck deer was shot during a closed season and only the antlers were removed from the animal.

Anyone with possible information regarding this second poaching incident, or who was in the area and may have noted suspicious vehicles or activities, is encouraged to call the Pinedale Game and Fish office at 1-800-452-9107, the STOP POACHING hotline at 1-877-WGFD-TIP (1-877-943-3847) or the South Pinedale Game Warden, Jordan Kraft, at 307-367-2470.

Callers may remain anonymous and any information leading to an arrest and conviction may result in a reward of up to $5,000.00.

Updates can be found here: Wyoming Game & Fish Pinedale Region News

---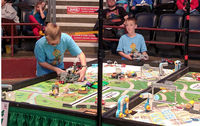 Robot Mission Challenge: Brycen Vrska and Noah Daniels. Photo by Andy Adkins.

Cowboy Joes 4H robotics team selected Wyoming State Grand Champions (posted 12/7/17)
Pinedale Online!
The Sublette County Cowboy Joes 4H robotics team participated in the First Lego League Wyoming State Championships (FLL) in Casper, Wyoming in early December. This season's FLL Hydrodynamics Project Challenge was to improve the way people find, use, transport or dispose of water.

The Pinedale Cowboy Joe's team chose an innovative solution for transporting water by including drone technology as a search tool for finding and recording wash-outs in canals and ditches. They continued their quest to improve their technology skills by creating a Power Point Judges presentation and also creating some fun and entertaining green screen stop motion videos.

Their team robot, BatCycle, is a box robot incorporating many gears that allow a single motor to function for all of their Robot Mission Challenges.

The ten member team is composed of elementary and middle school students ranging in age from 9-13 years old. Team members are Brycen Vrska, Noah Daniels, Elizabeth Adkins, Liam Walker, Noah Adkins, Wyatt Griffin, Cayden Christensen, Emmaline Vrska, Alex Adkins , Eva Collins. They are coached by Sandra McLoughlin and Andy Adkins.

The team was thrilled to be selected as this season's Wyoming State Grand Champions. They are part of 108 teams, representing more than 34,000 teams who participated worldwide during this past season, invited to attend the FLL Hydrodynamics World Festival Championship in Houston, Texas in April 2018. This is the second year in a row the Cowboy Joes 4H robotics team has been selected to attend the FLL invitational world championships.

Thank you to Sandra McLaughlin for her contribution to this article. Photos by Andy Adkins.

Related Links:
Robotics team attends world championship By Joy Ufford, Pinedale Roundup, April, 2017
Local 4-H Robotics team wins Second Place Overall Pinedale Online, Dec. 14, 2016
Two local Robotics teams compete at the 10th Annual First Lego League Wyoming Pinedale Online, Dec. 11, 2015
Sublette County 4-H wyoming4h.org
---
Nominations open for Wyoming Cowboy Hall of Fame Class of 2018 (posted 12/7/17)
Wyoming Cowboy Hall of Fame
The Wyoming Cowboy Hall of Fame (WCHF) has inducted 195 people since 2014, 184 men and 11 women. Beginning December, 2017, nominations are open for the Class of 2018. The nomination window on the WCHF website will continue to accept nominees until February 28, 2018.

Everyone is encouraged to nominate worthy individuals who represent the true cowboy heritage of Wyoming, men and women who have spent their lives with horses and cattle, pursuing and perpetuating the livestock industry that makes Wyoming great. Only people who have been correctly nominated will be considered for possible induction.

http://www.wyomingcowboyhalloffame.com/nomination/ is the website link to use. Nominating is easy, anyone can do it. The WCHF website offers clear, easy to follow instructions, and photos can be submitted with each nomination.

Nominees are inducted annually from 10 geographic regions across the state, having first been filtered and vetted by local committees after the nominations close, then further evaluated and selected by the WCHF Board of Directors in the Spring of 2018.

If you need assistance with your nomination contact a committee or Board Member near you. They are listed at www.wyomingcowboyhalloffame.com.
---
BLM Pinedale Field Office announces seasonal motorized vehicle restrictions (posted 12/7/17)
Bureau of Land Management
PINEDALE, WYOMING - The Bureau of Land Management Pinedale Field Office is notifying the public that motorized vehicle travel on BLM-administered big game winter ranges in the Ryegrass, Bench Corral, Deer Hills, Calpet, Miller Mountain and Mesa areas will be restricted from Jan. 1 through April 30, 2018.

This annual closure is in keeping with the Department's goal of shared conservation stewardship and has been in effect since 2008. The closure is necessary to protect elk, moose, pronghorn and mule deer from disruptive human activities during the difficult winter months, which can increase the mortality rate for these animals.

Motorized vehicles including but not limited to: snowmobiles, all-terrain vehicles, pickups and sport utility vehicles are prohibited in these closed areas. Highways, county and active oil and gas roads are not affected unless posted otherwise. Motorized vehicle use on public land the remainder of the year is always limited to existing roads and two-track trails. Non-motorized travel such as walking, horseback riding, cross-country skiing or mountain biking is still allowed.

The following areas are included in this seasonal closure:
The Ryegrass, Bench Corral, Deer Hills, Calpet and Miller Mountain winter ranges including lands north of Fontenelle Creek, east of the U.S. Forest Service Boundary, west of U.S. Highway 189 and south of Horse Creek.
The Mesa winter range including lands east of County Road 110/East Green River Road, north of County Road 136/Paradise Valley Road, west of the New Fork River and south of U.S. Highway 191.
Exceptions to this closure include:

The Wyoming Game and Fish Department, the Department of Agriculture Animal Plant Health Inspection Service, the Sublette County Sheriff's Office and the BLM when performing official duties;
Operators of existing oil and gas facilities performing maintenance and pumping, as approved in their permits;
Livestock operators conducting permitted activities;
Utility companies conducting emergency maintenance after notifying the BLM;

Other users who have been granted an exception by submitting a written application to the BLM for review and approval.

Signs will be posted at key locations entering the closed areas.
For more information, please contact Mark Thonhoff at 307-367-5357.

---
BLM suspends or delays parts of waste prevention rule (posted 12/7/17)
Actions reduce burdens that stunt economic growth and hinder America's energy dominance
Bureau of Land Management
WASHINGTON, D.C. — As part of President Trump's goal to reduce the burden of federal regulations that may hinder economic growth and energy development, the Bureau of Land Management today announced in the Federal Register that the agency will temporarily suspend or delay certain requirements contained in its 2016 final Waste Prevention Rule (also known as the Venting and Flaring Rule) until Jan. 17, 2019.

"As we strengthen America's energy independence, we need to make sure that regulations do not unnecessarily encumber energy production, constrain economic growth, or prevent job creation," said Brian Steed, BLM Deputy Director for Policy and Programs. "By holding off on certain requirements, the BLM now has sufficient time to review the 2016 final rule while avoiding any compliance costs on industry that may not be needed after the review."

The BLM reviewed the 2016 final rule as part of Interior Secretary Ryan Zinke's Secretarial Order No. 3349, American Energy Independence, issued on March 29. The BLM found that immediately implementing some parts of the 2016 final rule could unnecessarily burden industry as the BLM considers which parts of that rule might change.

In planning for additional review of the rule, the BLM determined that a temporary suspension or delay of certain requirements avoids compliance costs on operators for requirements that may be rescinded or significantly revised in the near future. For certain requirements in the 2016 final rule that have yet to be implemented, the rule temporarily postpones the implementation dates until Jan. 17, 2019. For certain requirements in the 2016 final rule that are currently in effect, the rule temporarily suspends their effectiveness, also until Jan. 17, 2019. This gives the BLM sufficient time to review the 2016 final rule and consider revising or rescinding its requirements. During this time, existing federal, state, and tribal regulations will ensure energy development is done in an environmentally sound, safe and responsible manner.

The BLM has engaged in stakeholder outreach in the course of developing this rule. On Oct. 16 and 17, the BLM sent correspondence to tribal governments to solicit stakeholder views to inform the development of this final delay rule. The BLM issued the proposed rule on Sept. 28, which was published on Oct. 5. The agency accepted public comments through Nov. 6. The BLM received more than 158,000 public comments on the proposed rule, including approximately 750 unique comments.

The BLM supports the administration's priorities that require agencies to seek ways to reduce the costs of regulatory compliance (Executive Order 13771, Reducing Regulation and Controlling Regulatory Costs) and that require the Secretary of the Interior to review four specific rules, including the BLM's 2016 final rule on waste prevention (Executive Order 13783, Promoting Energy Independence and Economic Growth).

The rule and its associated documents can be found at the Federal eRulemaking Portal: http://www.regulations.gov. Follow the instructions at the website.

---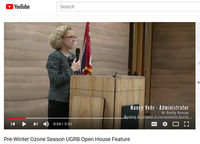 Wyoming DEQ Air Quality Division Director Nancy Vehr gave updates on the winter pre-ozone season status. A highlight video is available for those who missed the meeting.

Video available of WY DEQ Nov. 28th Pre-Winter Ozone Season Open House in Pinedale (posted 12/6/17)
Dawn Ballou, Pinedale Online!
Wyoming DEQ has video footage available on YouTube of their Pre-Winter Ozone Season Open House held in the Pinedale Library on November 28th. During the meeting, Air Quality Division Director Nancy Vehr gave the several updates:

- There have been 5 consecutive winters of the Upper Green River Basin being below ozone standards.
- 2017 had record levels of snowfall and there were 7 days recorded above the standards for acceptable levels of ozone in the Upper Green River Basin.
- In the fall of 2016, Wyoming Governor Matt Mead recommended that all of Wyoming be designated as in attainment or attainment/unclassifiable. Sublette, Sweetwater and Lincoln County have been designated by the EPA as "Attainment/Non-Classifiable" for the new lower 2015 ozone standards. "That's great news. That's attributed to a lot of hard work on everybody, the citizens, the industry, and the regulatory entities all working together. Our goal is to keep underneath that standard every winter."
- DEQ will be doing regular communication updates about every 2 weeks. They now have a regular point of contact person, Brian Hall. They will continue their daily ozone forecasts during January, February & March. They will continue to track VOCs at key locations during the winter ozone season. This is the 12th year of Wyoming DEQ's speciated winter ozone season monitoring program.
- DEQ has realized that some of the ozone episodes seem to last a little longer than a day. They have asked industry to think about things they can do to minimize emissions the day after an Ozone Action Day. They've also started a voluntary Ozone Action Plan available for individuals and businesses who wish to sign up as participating in the Contingency program for Ozone Action Days and the days after an Ozone Action Day.
- The study on ozone emissions from waste disposal ponds was released this past fall and is available.
- No additional rules or regulations are planned for compliance from Wyoming DEQ for emission reduction in the Upper Green River Basin. Monitoring will continue and operate under the Existing Source Rule that went into effect last year.

Dr. Alexia Harrist, State Epidemiologist/Health Officer for the Wyoming Department of Health was also present and made a brief presentation, as well as having a table with ozone and health related literature and how people can protect themselves. She said the goal of the WDH is to inform, educate and empower people as much as possible about their health. "There has been a lot of good research on the kind of health effects people experience when they are exposed to ozone."

Representatives from a number of oil & gas companies were present with information on their operations. Jonah Energy had a display on a pilot program they are doing installing thermoelectric power generators (TEGs) made by GenTherm to operate pumps that run glycol through their natural gas lines. The TEGs operate on natural gas from the system. They have no moving parts and are therefore very low maintenance. The results are showing emissions during the two month pilot test that the new TEGs prevent more than 98% of waste methane emissions from being vented out to the atmosphere. The company is continually looking for ways to reduce emissions from their operations.

Members of the local CURED group (Citizens United for Responsible Energy Development) were also present to talk about concerns local community members have about natural gas development in the Upper Green River Basin and impacts to citizen and worker's health from emissions. Elaine Crumpley, a member of the CURED board, said, "Let's revisit the health issue. Let's come up with some tangible information about the Upper Green and what it's doing to our health. We want to continue to cut down further on all the emissions."

Click on this link to go to the Wyoming DEQ page about the November 28, 2017 Open House:
http://deq.wyoming.gov/aqd/news/pre-winter-ozone-season-open-house

Click on this link to view the video highlights from the DEQ Ozone Update Open House:
https://www.youtube.com/watch?v=fIStyZsuUAc&index=2&list=PLQdHj8aFof8OBz67SkrdiDvL_cPyipprq

---
Vote for Pinedale for Polaris 'Ranger Country' (posted 12/3/17)
Polaris is celebrating a milestone in the production of rangers with a contest to determine the community that best embodies "Ranger Country".

Pinedale has made the top 5.

Gary Neely, former owner of Buck's Outdoors, recently spent a day filming a day in the life of a Pinedale Polaris.

Pinedale needs your vote!!! Go to the following website and vote. https://ranger.polaris.com/en-us/ranger-country-usa/

The winners will get a SUBSTANTIAL amount of publicity from this. Feel free to also post this on your Facebook pages and any other sites to get more attention to this.

---
Business Directory
Click here for
Advertising Information