Public warned of cyanobacterial blooms in waters around Wyoming (posted 8/2/2021)
On July 30, 2021, the Wyoming Department of Health has issued harmful cyanobacterial bloom (HCB) recreational use advisories for:
Big Sandy Reservoir
Eden Reservoir
Flaming Gorge Reservoir
West Granite Springs Reservoir
Pathfinder Reservoir
Saratoga Lake
Woodruff Narrows Reservoir

The Wyoming Department of Health is working directly with resource management agencies to ensure that signs are posted at all waterbodies with advisories. Additional details regarding advisories as well as other HCB resources can be found at WyoHCBs.org.

WDH issues recreational use advisories when cyanobacterial cell densities or cyanotoxin concentrations pose a risk to people engaging in swimming or similar water contact activities in areas where cyanobacterial blooms occur. HCBs may also pose a health risk to animals. Bloom advisories are issued when a HCB is present and toxins may be present. Toxin advisories are issued when cyanotoxins exceed recreational thresholds. Waterbodies under an advisory are not closed since HCBs may only be present in certain areas and conditions can change frequently. Advisories will remain in place until blooms have fully dissipated and cyanotoxin concentrations are below recreational use thresholds identified in Wyoming's HCB Action Plan.

If you encounter a potential HCB, the Wyoming Department of Health and Wyoming Livestock Board recommend the following:
• Avoid contact with water in the vicinity of the bloom, especially in areas where cyanobacteria are dense and form scums.
• Do not ingest water from the bloom. Boiling, filtration and/or other treatments will not remove toxins.
• Rinse fish with clean water and eat only the fillet portion.
• Avoid water spray from the bloom.
• Do not allow pets or livestock to drink water near the bloom, eat bloom material, or lick fur after contact.
• If people, pets, or livestock come into contact with a bloom, rinse off with clean water as soon as possible and contact a doctor or veterinarian.

Questions about health effects and recreational use advisories can be directed to Courtney Tillman, Surveillance Epidemiologist, Wyoming Department of Health, at courtney.tillman@wyo.gov or (307) 777-5522.
Questions regarding cyanobacteria sampling can be directed to Kelsee Hurshman, Natural Resource Analyst, Wyoming Department of Environmental Quality, at kelsee.hurshman1@wyo.gov or (307) 777-2073.

Current HCB Recreational Use Advisories
Big Sandy Reservoir
West Shore, Dam Area
Bloom
7/28/2021

Eden Reservoir
South Outlet
Bloom
7/28/2021

Flaming Gorge Reservoir
Buckboard Marina, Firehole Beach
Bloom
7/29/2021

West Granite Springs
West Causeway
Bloom
7/29/2021

Leazenby Lake
South Beach
Bloom
7/20/2021

Pathfinder Reservoir
Bishops Point
Bloom
7/29/2021

Saratoga Lake
West Boat Ramp, West Beach
Bloom
7/29/2021

Woodruff Narrows
North Boat Ramp
Bloom
7/28/2021

---
Sublette County Public Health Briefing: July 30, 2021 (posted 7/30/2021)
Sublette County Public Health
Sublette County COVID case numbers continue to rise for the third week in a row. The Wyoming Department of Health reports that there have been 24 new COVID-19 cases in Sublette County in the past week. There are currently 20 active cases in Sublette County, with 829 recoveries and 8 deaths, for a total of 857 cases since the pandemic began. Individuals are quarantining/isolating in the communities of Big Piney, Boulder, Cora, Daniel, and Pinedale.

This week, the Wyoming Department of Health reported the death of an older male from Sublette County with underlying health conditions. This brings the death total in Sublette County to eight. Public Health would like to express our condolences to his family.

The CDC now recommends individuals to wear masks in public indoor settings in areas with high community transmission. The Wyoming Department of Health has placed Sublette County in the Red Zone for community spread.

As a reminder, under current CDC guidelines people who have been fully vaccinated do not have to quarantine or isolate after a positive COVID exposure. Timing is prime in getting your student aged 12+ vaccinated before the start of school.

What to Watch Out For
If you experience any of the following: fever, persistent cough, loss of taste or smell, fatigue, muscle or body aches, headache, a sore throat, congestion or runny nose, nausea, vomiting or diarrhea; or if you have had exposure to a positive case, please call the Pinedale or Marbleton Clinic to schedule testing. Public Health continues to offer a free testing voucher for uninsured or underinsured individuals.

Vaccines
As of July 26th, 2,490 people have been fully vaccinated in Sublette County, which means that 25.59% of our population has been vaccinated. We have seen an increase at our weekly vaccination clinics over the past two weeks--keep coming to get vaccinated!

Sublette County Public Health is holding weekly vaccination clinics at our Public Health Offices. Moderna, Pfizer, and Janssen (Johnson & Johnson) Vaccines are available weekly at these clinics. We were able to receive more J&J vaccine and we are offering Moderna again due to multiple requests. Registration is requested but walk-ins are welcome on these clinic days!
Tuesdays 1:30-3:30 pm, Marbleton Public Health Office (located in the Marbleton Senior Center).
Thursdays 1:30-4 pm, Pinedale Public Health Office (in our large conference room--look for the signs).

Ridley's is providing Moderna and Janssen vaccinations on Mondays--visit their website to sign up https://shopridleys.com/pharmacy.php. Altitude Drug is currently offering Janssen vaccine--call for more information at 367-2278.

Remember that all COVID vaccines are available at no cost. Pfizer is available for 12+ . Janssen is available for 18 and older. Sign-up is easy and takes less than 10 minutes. Sign-up here: https://www.sublettewycovid.com/vaccines or call Public Health at 367-2157 for assistance.

---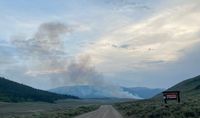 Soda Lake Fire. Photo courtesy USFS.

Soda Lake Fire update (posted 7/28/2021)
Pinedale Online!
Wednesday, July 28, 7:30AM: This fire was reported around 3PM on Tuesday, July 27th and was around two acres in size at that time. The fire is about 40 acres this morning and actively burning in the South Cottonwood Creek drainage near Soda Lake in the Wyoming Range. The fire is burning on the Big Piney Ranger District of the Bridger-Teton National Forest about three miles west inside the National Forest boundary. Multiple resources are threatened, including gas wells, and a full-suppression effort is underway.

The public is asked to please stay out of the area to allow ground and aviation resources the space they need to operate safely. Please do not fly drones in the area.

Updates on this fire are being posted on the Bridger-Teton National Forest Facebook page. #SodaLakeFire

Weather is expected to be a little cooler this week in the 70Fs and 80Fs in the Upper Green River Valley. Moisture is moving in from the south which will cause thunderstorms to build up in the afternoons with lightning, strong downburst wind gusts, and heavy rainfall possible near these storms.

Fire danger is rated Very High in northwest Wyoming and Stage 1 Fire Restrictions are in effect. No campfires are allowed except for in developed campgrounds.

People are asked to be very careful when recreating outdoors. Be responsible with any possible ignition sources (cigarettes, hot exhaust from motor vehicles, chainsaw sparks).

---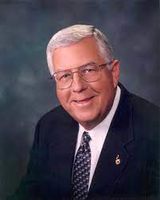 Mike Enzi

Former US Senator Mike Enzi dies after bike accident injury (posted 7/27/2021)
Former US Senator Mike Enzi of Wyoming died Monday, July 26th, following a bike accident several days earlier that left him seriously injured. He was 77.

On Friday evening, July 23rd, Enzi was riding a bike near his home in Gillette, Wyoming, when something went awry and he had an accident in which he was badly injured. He was Life Flighted from Gillette to UCHealth Medical Center of the Rockies in Loveland, Colorado. The family reported he passed away peacefully Monday surrounded by his family.

A Fox News report indicates Enzi fell for some reason and was found unresponsive on by his bike on a road near his home. There apparently were no indications of anyone else nearby or an accident. He remained unconscious with a broken neck and broken ribs, according to their report.

Enzi served four terms in the U.S. Senate beginning in 1977. He opted not to run in 2020. He was replaced by former Rep. Cynthia Lummis. A Celebration of Life is planned at a later date.

---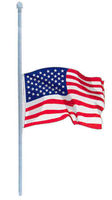 Flag Half Staff notice

Flag Half Staff Notice – U.S. Senator Mike Enzi (posted 7/27/2021)
Immediately until further notice
Wyoming Governor Mark Gordon
CHEYENNE, WYOMING – Governor Mark Gordon and all of Wyoming mourn the loss of former United States Senator Mike Enzi, who passed away last night from injuries suffered in a bicycle accident in Gillette.

The Governor has ordered both the U.S and Wyoming flags to be lowered immediately to half-staff. They will remain at half-staff until sundown at the day of interment. Once that date has been established, the Governor's office will send out another notification to advise when the flags will be returned to full-staff.

Enzi was elected to the U.S. Senate in 1997 and served until his retirement in 2020. He previously served as mayor of Gillette from 1975 to 1982.

The Governor has issued the following statement:
"Mike was a friend and a dedicated public servant who cared deeply about Wyoming and its people. His leadership in the Senate was tireless and productive. He was a strong advocate for the state's interests and was always committed to finding consensus where possible. He understood what is important for America.

We are all heartbroken by this terrible loss. Jennie and I join the thousands offering their prayers and well wishes for Diana and the Enzi family. God Bless you Mike. Thank you for your service, and Godspeed."

---
Barrasso Statement on Mike Enzi (posted 7/27/2021)
Senator Barrasso media release
WASHINGTON, D.C. – Today (Tuesday, July 27, 2021), U.S. Senator John Barrasso (R-Wyo.) delivered the following statement regarding the passing of former U.S. Senator Mike Enzi (R-Wyo.):

"Wyoming and the nation have lost one of the most consequential public servants of our time.

"Whether he was serving as mayor of Gillette, in the Wyoming Legislature, or in the U.S. Senate, you could not have asked for a stronger champion for Wyoming and our country than Mike Enzi.

"U.S. Senator Mike Enzi was the trusted trail boss of Wyoming's congressional delegation. In his four terms in the U.S. Senate, Mike never wavered in his commitment to God, family or Wyoming.

"Mike was a problem solver through and through. More than 100 Enzi bills were signed into law by four U.S. presidents. Many passed with overwhelming bipartisan support. As the first accountant to chair the Senate Budget Committee, Mike secured a legacy of cutting wasteful spending and making government more accountable to American taxpayers.

"It was an incredible honor and a great privilege for my wife Bobbi and me to serve the people of Wyoming alongside Mike and his wife Diana. Mike was a mentor to me, a dear friend, and I will miss him tremendously.

"Family and faith meant everything to Mike. Bobbi and I send our deepest condolences to Diana and their children Amy, Emily and Brad, and all of their beloved grandchildren."

---
Governor signs Temporary Executive Order to help alleviate fuel shortages (posted 7/20/2021)
To help prevent potential gasoline, diesel and aviation fuel shortages, Governor Mark Gordon has signed an Executive Order (EO) that puts in place temporary emergency rules for the Wyoming Department of Transportation allowing drivers to make extra fuel deliveries.

The order is effective July 20 through August 20.

Demand for fuel has increased due to post-pandemic travel in the United States, with increases in travel and tourism seen throughout the state. In addition, an early fire season has resulted in increased fire suppression efforts which have also impacted demand for various fuels across the western United States.

"It is critical that we have adequate fuel supplies. This is particularly necessary for air support during this fire season," Governor Gordon said. "These emergency rules will help increase fuel deliveries without potentially harmful delays."

The emergency rule suspends regulations on driving hours to allow drivers to meet the increased demand for fuel, but still indicates drivers cannot be on the road when they are fatigued. Fuel delivery companies are specifically asked to take extra precautions to ensure the safety of both the public and company drivers.

This order applies specifically to drivers bringing gasoline, diesel or aviation fuel to Wyoming or doing in-state deliveries. The order also aligns Wyoming with other surrounding states, which have implemented similar executive orders.

For questions pertaining to enforcement, contact Wyoming Highway Patrol Lt. Dustin Ragon at 777-4872.

A copy of the Executive Order may be found on the Governor's website.

---
Governor Gordon calls for volunteers to serve on the Sublette Mule Deer Migration Corridor Working Group (posted 7/15/2021)
The third and final Working Group will convene to discuss designated corridors under the Governor's migration corridor Executive Order
Governor Gordon, in consultation with county commissioners, is now accepting applications to serve on the Sublette Mule Deer Migration Corridor Local Area Working Group. In early 2020, Governor Mark Gordon signed Migration Corridor Executive Order 2020-1. The Order supports conservation of mule deer and pronghorn, protects landowner rights and accommodates multiple-use opportunities. The Executive Order designated three corridors and the Sublette Corridor Working Group is the final group to convene to discuss existing designated corridors under the process outlined by EO 2020-1.

The Sublette Local Area Working Group follows the completed processes for the Platte Valley and Baggs Mule Deer Migration Corridors. Members will review the effectiveness of corridor designation on the migratory mule deer herd, discuss risks and threats to the functionality of the corridor, make recommendations about additional conservation opportunities and evaluate corridor designation effects on the local economy.

"I look forward to a collaborative and productive process for the Sublette Corridor," Governor Gordon said. "Last but not least, the Sublette corridor is a high-profile corridor and the Working Group will need to make recommendations that balance a wide range of multiple uses on the landscape. The local perspectives that each group member will bring to the table is a crucial part of the process. I urge people from the Sublette Corridor area who are interested in serving to apply."

The Sublette Local Working Group will meet several times in person with a goal of completing the process by September 2021. The meetings will be facilitated by the Governor's Office to make recommendations about additional opportunities for conservation, as well as to examine the impacts of any restrictions on development and use of lands encompassed in the designated corridor.

To serve on the working group, apply online via this form. The application period closes July 26th. The full text of the Executive Order can be found on the Governor's website here.

---
Public meetings on elk feedground management (posted 7/14/2021)
Six public meetings to be held across the state - Pinedale meeting August 4th
Wyoming Game & Fish
The Wyoming Game and Fish Department is encouraging members of the public to attend one of the upcoming meetings to begin Phase II of the public collaborative process on elk feedground management. Elk Feedgrounds - A challenge we can take on began last fall with initial shared-learning sessions. This summer, Phase II begins with six public meetings held across the state to outline stakeholder and public involvement.

"Phase II is designed to have more in-depth engagement with various stakeholder groups on elk feedgrounds management," said Scott Edberg, Game and Fish deputy chief of wildlife and chair of the elk feedgrounds steering team. "We will provide additional opportunities for shared-learning on issues that were identified by participants as an outcome of Phase I."

All planned public meetings will begin at 6 p.m. and will be held in-person. There will be no online option.:
July 27 - Laramie, Laramie Game and Fish Office, 1212 S. Adams St.
July 28 - Rock Springs, Rock Springs Public Library - Ferrero Room, 400 C Street
July 29 - Casper, Casper Game and Fish Office – Pronghorn Room, 3030 Energy Ln.
Aug. 3 - Afton, Afton Wyoming Civic Center – Room 125 A and B, 150 S. Washington St.
Aug. 4 - Pinedale, Sublette County Weed and Pest, 12 S. Bench Road
Aug. 5 - Jackson, Jackson Hole Conference Center, 920 West Broadway

Meetings will be facilitated by Tara Kuipers Consulting, an independent firm based in Cody. Phase II will build off the information provided in Phase I. Recordings of the Phase I presentations can be found on the Elk Feedgrounds Public Collaborative webpage as well as a summary report of Phase I.

"We had great dialogue with the public in Phase I and are excited to build upon that momentum in Phase II," Edberg said. "We look forward to the public's ideas and feedback. The department is interested in multiple perspectives to take into consideration during the development of the elk feedgrounds management plan."

Ultimately, the Game and Fish-led process will produce a long-term management plan for elk feedgrounds managed by the department. The draft management plan is tentatively planned to go in front of the Wyoming Game and Fish Commission for approval in the spring of 2023. To learn more and get involved visit the Elk Feedgrounds Public Collaborative webpage.

The State of Wyoming supports the Americans with Disabilities Act. Anyone needing auxiliary aids should contact the Wyoming Game and Fish Department at 307-249-5811. Every effort will be made for reasonable accommodations.

---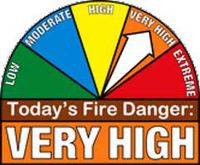 Partial Fire Restrictions begin July 1, 2021 (posted 6/29/2021)
Restrictions on campfires and smoking
Bridger-Teton National Forest
WESTERN WYOMING—Stage 1 fire restrictions will go into effect for Bridger-Teton National Forest, Grand Teton National Park, and National Elk Refuge beginning 12:01 a.m. Thursday. July 1, 2021.

Stage 1 fire restrictions apply primarily to campfires and smoking. The restrictions are based in part on the very high fire danger and predictions of continued warm and dry weather. Other factors include current regional and national fire activity. Several geographic areas are experiencing major incidents which have the potential to exhaust all agency fire resources.

"The limited number of available fire resources due to the national fire situation and the increased traffic may limit our ability to respond to fires in a timely fashion," said Josh Erickson, assistant fire management officer for the Bridger-Teton National Forest. "We want people to take the danger seriously and obey the restrictions that are in place."

Fire managers study the moisture content of various fuel types, track current and expected weather conditions, and monitor available fire-fighting resources, as well as the occurrence of human-caused fires, to determine when fire restrictions need to be applied to public lands.

The Teton Interagency Dispatch Center has recorded 62 unattended campfires so far this summer.

Stage 1 fire restrictions include:
• Lighting, building, maintaining, attending or using a fire, campfire, barbecue or grill is allowed only at designated recreation sites such as established campgrounds or picnic areas. Use of portable stoves and lanterns using gas, jellied petroleum or pressurized liquid fuel, or use of a fully enclosed sheepherder type stove with a spark arrester screen is permitted.
• Smoking is allowed only in an enclosed vehicle, building (unless otherwise prohibited), developed recreation site, or while in an area at least three feet in diameter that is barren or cleared of all flammable materials (i.e. parking lots, developed campsites, or locations surrounded by water).

The following restrictions exist year-round:
• Operating a chainsaw is prohibited in national parks and on the wildlife refuge. Operating a chainsaw on national forest lands is permitted only when equipped with a USDA or SAE approved spark arrester that is properly installed and in effective working order. Operators must also carry a chemical pressurized fire extinguisher with a minimum rating of 2A and one round point shovel with an overall length of at least 36 inches.
• Discharge of fireworks and use of explosives requiring blasting caps are prohibited.
• Charcoal burning fires are only allowed in official campgrounds and picnic areas.
• Stoves and grills that burn contained fuel sources that can be turned off and on are allowed. Stoves and grills must be attended to all times and be setup on hardened surfaces devoid of vegetation at least three feet in diameter.

Violation of these prohibitions is punishable by a fine of up to $5,000 for an individual or $10,000 for an organization, and/or by imprisonment for more than six months.

Unattended or abandoned campfires can quickly escalate into wildfires, and it is extremely important that all campfires are completely extinguished and cold to the touch before campers leave their site. Visitors should NEVER leave a fire unattended and should prepare for the unexpected by having a water bucket and shovel on hand and ready to use. The fine for an abandoned campfire as well as campfires in unapproved areas is up to $5000 or 6-months in jail, but campers can also be held liable for suppression costs if their campfire becomes a wildfire.

Additional information on restrictions and allowable stoves is available at TetonFires.com to learn more about fire safety and what fire regulations may be in place. To report a fire or smoke in the immediate area, call the Teton Interagency Fire Dispatch Center at 307-739-3630.

---
Submit Wilderness Check-In form before going into backcountry (posted 6/29/2021)
Sublette County Sheriff's Office
Summer is in full swing and many are making their way to our beautiful mountain areas. Make sure to submit a wilderness check-in form with the Sublette County Sheriff's office before going into the back country. It helps Tip Top Search and Rescue know where to start searching should you encounter an emergency or don't return on time. Submit directly on the new app or find the form on the County website: http://www.sublettewyo.com/439/Wilderness

Download the form here: http://www.sublettewyo.com/DocumentCenter/View/238/Wilderness-Check-in-form?bidId=

---
Soundcheck Summer Music Series returns (posted 6/27/2021)
Pinedale Fine Arts Council
Pinedale's Soundcheck Summer Music Series returns this summer with an incredible lineup featuring high profile acts like Sierra Ferrell, Jackie Venson and The Vandoliers.

Presented by The Pinedale Fine Arts Council (PFAC), the Soundcheck Series consists of six free concerts at American Legion Park in downtown Pinedale. Shows start at 5 pm and are kid/pet friendly with food/beverage vendors set up directly outside of the park. More info at soundcheckpinedale.com

Sunday July 4: National Park Radio
With special guests Carolina Story, Jason Tyler Burton
NATIONAL PARK RADIO
With compelling songwriting, enthusiastic energy, and moving vocals, National Park Radio delivers a unique blend of folk, country, bluegrass, and pop, bringing a fresh but familiar sound reminiscent of The Lumineers, Mumford & Sons and The Avett Brothers.
CAROLINA STORY
Blending folk intimacy, country grit, and alt-rock muscle, Carolina Story's resilient new album, Dandelion, is an ode to survival in the face of struggle, a full-throated tribute to the power of hope and the unbreakable bonds of family.
JASON TYLR BURTON
Jason Tyler Burton is a wanderer, a soul-searching adventurer who writes songs about the journey. His songs and stories are heart felt, reflecting a search for meaning and home, with a voice and lyrics that invite you to lean in a little, and really listen.

Friday July 16: Jackie Venson
With special guests A.J. Fullerton, The Boom & the Bust
JACKIE VENSON
Jackie Venson is a multi-instrumentalist, singer/songwriter known far and wide for her beautifully complex music and blazing guitar skills. Born and raised in Austin, Texas, Jackie has traveled the world playing to massive crowds both as a headliner and as support for major acts such as Gary Clark Jr, Aloe Blacc, and Citizen Cope, to name a few.
A.J. FULLERTON
A.J. Fullerton is a Roots, Rock, & Blues artist originally from Montrose, CO. He grew up listening to by artists like; Mississippi John Hurt, Taj Mahal, T Model Ford, Albert Collins, R.L. Burnside, Junior Kimbrough, The Black Keys, Patrick Sweany, North Mississippi Allstars, Robert Belfour, and many more. Since picking up the guitar as a teenager, A.J. has become known for his signature style of fingerpicking & bottleneck slide guitar..
THE BOOM & THE BUST
The Boom and the Bust, an alt-country duo based in Pinedale, are story tellers who delve deep into the roots of the dirty south and untamed west.

Saturday July 17: Goodnight, Texas With special guests Pixies & the Partygrass Boys, Companion
GOODNIGHT, TEXAS
Goodnight, Texas is the transcontinental garage Appalachian collaboration of San Francisco's Avi Vinocur (formerly of The Stone Foxes) and North Carolina's Patrick Dyer Wolf. The music is the product of their travels, their whispers and roars, their sounds made with steel and wood, and the echo of our country's past.
PIXIE & THE PARTYGRASS BOYS
Partygrass isn't exactly bluegrass, or newgrass, or pop, or punk, or rock and roll. They fall somewhere in between it all, and that's exactly how they like it. Drawing influence from the bluegrass roots of Appalachia and transporting it straight to the western edge of the Rockies, Pixie and the Partygrass Boys create a uniquely American sound. Inspired by landscapes from coast to coast, the group combines classical training with jazz, Broadway, pop-punk, and an unabashed love for having a damn good time.
COMPANION
Imagine if Simon & Garfunkel were combined with Phoebe Bridgers and turned into identical twin sisters. That's Companion.

Saturday July 24: Fox Royale
With special guest Abby Webster
FOX ROYALE
Fox Royale make anthemic, jangly indie-rock that sparkles with the same energy as acts like Cold War Kids, Cage the Elephant and Vampire Weekend. Their debut single, "Don't Call Me When You're Lonely," is about a seemingly isolating phenomenon: loneliness, particularly the kind that affects traveling musicians (or traveling workers of any kind) and their partners. So why does the song sound so big, so full? Because Fox Royale have the ability to make music about things like emotional insecurities, breakups and family breakdowns sound almost joyful.
ABBY WEBSTER
Abby Webster is a singer-songwriter and multi-instrumentalist living in Jackson Hole, Wyoming. Filled with metaphor and dark humor, her songs are just as whimsical as they are visceral.

Friday, August 6: Sierra Ferrell
With special guests The Lonesome Heroes
SIERRA FERRELL
With her spellbinding voice and time-bending sound, Sierra Ferrell makes music that's as fantastically vagabond as the artist herself. Growing up in West Virginia, the singer/songwriter/multi-instrumentalist got her start belting out Shania Twain songs in a local bar at the age of seven, and left home in her early 20s to journey across the country with a troupe of wandering musicians.
THE LONESOME HEROES
Austin's Lonesome Heroes reside at the cosmic junction of indie rock and country. Led by frontman Rich Russell's never-ending call of the road, the group have toured extensively behind two acclaimed albums across continents on both sides of the world, while never straying too far from their "Cosmic Americana" roots. The Lonesome Heroes draw as much from Seventies pop as they do from a potpourri of country rock.

Saturday, August 14: Vandoliers
With special guest Rachel Baiman
VANDOLIERS
Vandoliers are the next wave of Texas music. The six-piece Dallas-Fort Worth group channels all that makes this vast state unique: tradition, modernity, audacity, grit, and—of course—size. Forever puts it all together for an enthralling ride down a fresh Lone Star highway.
RACHEL BAIMAN
Rachel Baiman has spent the last decade working as a musician in a wide variety of roles, from session musician (Molly Tuttle, Kelsey Waldon, Caroline Spence), to live sidewoman (Kacey Musgraves, Amy Ray), to bandmate and producer. She is known in the bluegrass and old time world for her work with progressive acoustic duo 10 String Symphony.

The Soundcheck Summer Music Series is supported by the Town of Pinedale, The Pinedale Lodging Tax, The Wyoming Cultural Trust Fund and the Sublette County Recreation Board. For more information, visit soundcheckpinedale.com

---
Business Directory
Click here for
Advertising Information