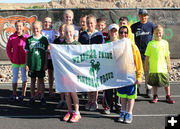 Wrangler Pride

Pinedale athletes at the 2013 annual state Hershey Track & Field meet in Rock Springs. Photo courtesy Pinedale Aquatic Center.


Pinedale athletes attend State Hershey Track & Field meet
by Pinedale Aquatic Center
June 20, 2013

Eighteen Pinedale athletes traveled to Rock Springs, Wyoming the weekend of June 15 to compete in the annual state Hershey Track & Field meet. These athletes qualified to attend state through their first or second place event finishes during the local meet held in Pinedale on May 22. Pinedale's local meet hosted over 120 participants, from ages 5 to 14. The Pinedale Aquatic Center would like to give a huge "Thank You" to all participants, parents, and volunteers for your commitments to making the local and state meets possible for our athletes.