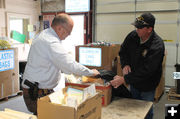 Bagging boxes

Sublette County Sheriff Dave Lankford (L) and Capt. Scott Winer (R) bag up the boxes of personal papers.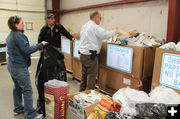 Clean up

Sally Wight, Recycling Staff (L), Capt. Scott Winer (M), and Sublette County Sheriff Dave Lankford (R) bag up the stacks of papers that contain personally identifying information.


Care advised when disposing of business and personal records
by Dawn Ballou, Pinedale Online!
October 23, 2013

On a Sunday in April, two Pinedale residents found themselves in the middle of a bit of an adventure at the Pinedale Recycling Center. Twelve-year old Abby Hudson and her Mom, Dayle Read-Hudson, were dropping off items to be recycled when they noticed a number of boxes of file folders stacked by the paper recycling bin they were using. The curious young girl noticed something odd about the boxes of file folders. They appeared to be old business records. Upon further inspection, Abby and her Mother were astonished to see that papers in the folders contained a great deal of personal information including social security numbers for many local people whose names they recognized, business bank records, old checks, documents with many signatures, personal medical information, years worth of business financial records, legal documents, credit card information and other items for several local businesses and their operations.

This struck 7th grader Abby as not being right to have all this kind of personal information dropped off in an unsecure location where those papers and confidential information could be at risk of identity theft.

Abby asked her Mom what they should do? They didn't like the idea of the papers being left there unattended with people's confidential information easily assessable. The recognized some of the names as people they knew. They talked about possibly taking the boxes home and shredding the documents and bringing them back for recycling, but ultimately decided they weren't comfortable doing that. Next they decided to call the Sublette County Sheriff's Office to see if they could help. Two officers responded and checked it out, but told them it wasn't a crime to drop off business records at the recycling center, and they really couldn't do anything about it.

Ultimately, they left the boxes and went home. The next day they contacted members of the media to see if they could help at all.

Pinedale Online went to the recycling center and found the boxes in question. Upon inspection, we confirmed that they contained old records from several related local businesses. Some of the paperwork included names of past employees along with their social security numbers, many signatures, bank records, credit card receipts, legal documents and more. Upon contacting the Sheriff's Office again, Sheriff Dave Lankford and Undersheriff John Wells came out to check out the situation. They concluded it was good the business was recycling all the paper, but they should have removed and securely disposed of any paperwork that contained any personal information about themselves and their employees.

Over the weekend, the bins at the recycling became full, so whoever dropped off the boxes couldn't dump the contents into the full bins, so they left them on the floor. That left the documents vulnerable to possible compromise until the time recycling personnel could empty the bins and clean up the overflow. Ultimately, Sheriff Lankford and Capt. Scott Winer returned and collected all the boxes and papers so they were secured.

Federal law requires businesses to keep their records for a number of years for tax purposes. After that time, businesses may dispose of the accumulation of paperwork as they see fit. Many states have laws that require businesses to take all reasonable steps to dispose of, or arrange the disposal of, any business records for customers or employees once those records are no longer to be retained by the business. Wyoming does not have any laws regarding the disposal of business records.

In the case of these particular business records, Sheriff Lankford took the records to the business owner and talked to him about sorting out the confidential papers and disposing of them securely, then recycling the other paper as originally intended. "He said he would take care of it," Lankford said.

Abby's mother, a licensed mental health clinician, said she was proud of her daughter and her concern about other people's confidential information. "I am very proud of her for not taking no for an answer."

When asked why she was concerned, Abby said, "I saw Social Security numbers. I didn't want people to have their own confidential information out for grabs."

While recycling of paper is encouraged, citizens and business owners are advised to properly destroy any unneeded records that contain any personally identifying information of themselves, employees or customers once those records are no longer to be retained.