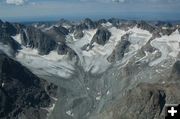 Dinwoody

Dinwoody Complex with Gooseneck Glacier on right. Photo by Rita Donham, Wyoming AeroPhoto LLC.

Wind River Glaciers photo exhibit at the Library
October 15, 2013
Local photographer, Rita Donham, has hung new images in the Lovatt Room of the Pinedale Library. The pictures are aerial views of glaciers in the Wind River Mountain Range. The display is part of Rita's "Dirty Little Local Glaciers" series. "Little...because they are diminishing in size, not significance. Dirty, because the particulate from the air is causing a faster melt, and like a dirty secret....when ice melts...it's gone," Donham said. The photos are printed on metallic paper and have an acrylic frame/mount. The display will be up through the end of October.