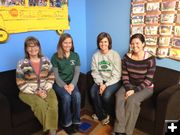 NBC Teachers

Left to right) Liz David, Karly Majhanovich, Cori Ann Lloyd, Laura Conwell, teachers with Sublette County School District #1, recently were awarded National Board Certification. Photo courtesy Sublette County School District #1.


Four SCSD#1 teachers earn National Board Certification
by Sublette County School District #1
November 26, 2013

Sublette County School District #1 wishes to congratulate:

Elizabeth David – Science Teacher
Laura Conwell – Fifth Grade Teacher
Cori Ann Lloyd – First Grade Teacher
Karly Majhanovich – Special Education Teacher

For achieving National Board Certification (An extremely rigorous and very prestigious national certification program).

These great teachers join Michael Gregory, Jennifer Hayward, and Sherrill Hudson in this honor.

___________________________________________________

Editor's Note: The National Board is an independent, nonprofit, nonpartisan, and nongovernmental organization governed by a board of directors, the majority of whom are classroom teachers for the purpose of developing professional standards for early childhood, elementary, and secondary school teaching. National Board Certification is an advanced teaching credential earned through a rigorous, peer-reviewed process that ensures that Board-certified teachers have proven skills to advance student achievement. Seeking National Board Certification is a voluntary process initiated by the teacher. As part of the process, teachers must analyze their teaching context and students' needs, submit videos of their teaching, and provide student work samples that demonstrate growth and achievement. Their work is then submitted to seventeen assessors who evaluate the work for standards in specific fields. Only a small fraction of the country's teachers have National Board certification and not all who submit their work pass the rigorous scrutiny.