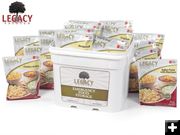 120 Serving Entree Bucket

The 120 serving entrée bucket provides a variety of food storage meals that are easily prepared and taste great. These entrées are sealed in Mylar pouches, packed in a heavy-duty bucket and store long term for 25 years or more. GMO-free, vegetarian-friendly, low sodium, no trans-fats, low cholesterol, made in the U.S.A. Simple to prepare: just add water.

Emergency bulk food purchase opportunity
Long-term food storage in case of an emergency or crisis
December 31, 2013
Are you interested in being better prepared in case of an emergency or crisis? The Church of the Resurrection is preparing to make a large order of emergency bulk food and is inviting Sublette County residents to take advantage of bulk prices.

They found Legacy Food products to be the most economical. Their products have a 25-year shelf life, are GMO free, and have the highest average calories per serving (~370 cal/serving).

Purchase a 120-Entree Bucket for $214, reduced from its regular price of $280. Two buckets would feed a family of five for 24 days (240 servings) and costs $428.

To further help anyone who is interested, the Church is offering a three-month payment plan to qualifying individuals or families.

This is a non-profit service the Church is offering to the community. They have no association with Legacy Foods. Planned purchase is first week in February, 2014. All interested parties should contact the Church as soon as possible to get their order in for the group's bulk purchase order.

For more information on Legacy Food go to http://www.preparewise.com/120-serving-entree-bucket.html.

For information about this offer, please contact the Church of the Resurrection, 41 S. Lake Ave in Pinedale, 307-367-3500, or email churchoftheresurrection.wyo@gmail.com.