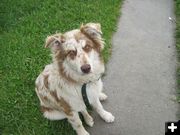 Bo

Bo is a male Australian Shepherd. He is up-to-date on vaccinations and has been neutered.

Pet Adoption Day Feb. 1st
January 31, 2014
Happy Endings Animal Rescue will be having another Adoption Day on Saturday, February 1st at Creature Comforts, 269 S. Cole Ave. in Pinedale from 11AM to 3PM. All dogs are current on vaccinations, have been altered, or are scheduled to be altered in the very near future. Adoption fees apply (cover the vaccinating, spay and neutering).

Dogs needing new forever homes:
Cowboy - adult male Golden Lab mix
Patrone - adult male Kelpie (chocolate brown with tan markings)
Lady Girl - adult female Shepherd/Collie mix
Tank - adult male Mastiff mix (gold/tan colored)
Triton - adult male Golden Retriever/Terrier mix
Bilbo - adult male Australian Shepherd mottled brown
Emma - adult male bird dog/hound dog
Rango – adult male Puli/Terrier mix

For more information please contact Happy Endings Animal Rescue at 307-360-6000 or Creature Comforts at 307-367-6622.