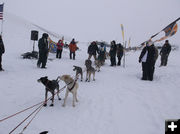 Big Piney start line

Crittenden's dogs turn and listen as the announcer counts down from 'Ten' seconds before their start. Photo by Joy Ufford.


Streeper wins IPSSSDR, Crittenden 6th, Teasley 7th
by Joy Ufford
February 10, 2014

After the Kemmerer dogsled-race stage was cancelled Friday due to terrible snowy weather and whiteout conditions, International Stage Stop Sled Dog Race (IPSSSDR) mushers had one last chance to better their overall times.

That was Saturday morning, Feb. 8, with the Uinta County 45-mile stage race on IPSSSDR's eighth and final day of competition.

Spokesman Roger Anderson said that the final stage race didn't enjoy the best of conditions, either, with late starts and a route change.

"There were some incredible challenges faced by the race organization and the competitors alike as Mother Nature let her presence be known the past two days in particular," Anderson said.

Saturday evening, mushers were honored at the closing banquet in Evanston and
the 2014 IPSSSDR formally came to an end.

Blayne "Buddy" Streeper (#9) took first place for 2014 as he did in 2010, 2011 and 2012. His first-place finish in Saturday's stage, with a time of 2:14:16, brought his cumulative racing time to 18:43:20. John Stewart (#10 - winner of the Big Piney/Marbleton stage on Thursday) claimed second place in this year's IPSSSDR with a Day 8 time of 2:18:43 and overall time of 19:09:55.

Third-place for the annual eight-stage event went to David Turner (#17), with a stage-race time of 2:29:24 and overall time of 19:49:41, and last year's IPSSSDR champion Aaron Peck took fourth place, with a Day 8 time of 2:31:34 and cumulative time of 20:07:37.

Bruce Magnusson (#4) snatched fifth place by two seconds over first-time Bondurant musher Alix Crittenden, who said last week her goal was to complete the stage-stop race in the top five. Magnusson's overall time was 20:42:31, with Crittenden posting a cumulative time of 20:42:33.

Veteran IPSSSDR musher Stacey Teasley, racing for Jackson Hole Iditarod located in Hoback Canyon, took seventh place with an overall time of 20:44:18.

Streeper won the $10,000 purse for coming in first for the 2014 IPSSSDR. Crittenden took home $3,300 for her sixth-place finish and Teasley received $2,700 for seventh place. Day-race moneys for the top 10 mushers ranged from $151 to $868 per stage, depending on their times.