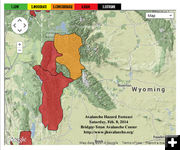 Avalanche Forecast map

Avalanche forecast for Saturday, Feb. 8, 2014. Graphic courtesy Bridger-Teton Avalanche Center.


Western Wyoming Avalanche Advisory
HIGH avalanche danger
by Bridger-Teton Avalanche Center
February 8, 2014

Advisory issued on Saturday, February 08, 2014 5:36 PM:

SITUATION:
The second wave of a three part storm system brought strong winds and dense snow the region overnight and into the mid morning hours. During the rest of the day skies remained cloudy with more wind than snow. New snow accumulations during the last 24 hours ranged from 10 to 16 inches in the mountains and 6 to 10 inches in the valleys. For the second day in a row this system favored the Greys River/Southwest Trails area, however both the Teton and the Togwotee Pass/Continental Divide received 10 inches or more of new snow during this period.

Storm totals for the last 48 hours range from nearly 30 inches with three inches of moisture in the Salt River and Wyoming Ranges to 15 inches with 1.5 inches of moisture on Togwotee Pass. The upper elevations of the southern Teton Range received 18 inches with 1.8 inches of moisture.

Temperatures during the day rose into the upper teens to mid 20s in the mountains and into the low to mid 30s in the valleys. During the past 48 hours temperatures have risen 20 to 30 degrees in most locations. At our Brooks Lake station, on the east side of the Continental Divide, temperatures have increased 45 degrees from a low of -31 early Thursday morning to a high of 14 degrees today.

Due to warming temperatures the newer snow is denser than the older snow. The snow that fell during the last 24 hours had a measured density of 11 to 17 percent, depending on elevation and exposure to the wind. The snow that fell before that had a measured density of 5 percent. This scenario created an upside snowpack.

West winds created areas of blowing and drifting snow. Winds speeds of 20 to 40 with gusts from 55 to 100 miles per hour were recorded at our summit weather stations. The highest gusts occurred on Mt. Coffin in the Wyoming Range. Wind gusts of 37 miles per hour were recorded at an elevation of 7,800 feet.

The new snow, strong west winds and increasing temperatures have created unstable conditions. Poor visibility limited avalanche observations in the backcountry although numerous small slides were observed on steep road cuts along local roads. Backcountry skiers observed shooting cracks and easily triggered shallow wind slabs at the mid elevations.

FORECAST FOR SUNDAY, FEBRUARY 09, 2014
Snow will be on the increase across the area again tonight and will continue through much of the day on Sunday before decreasing Sunday night. New snow accumulations of 8 to 16 inches are expected in the mountains during the next 24 hours. Strong west winds at speeds of 20 to 30 with gusts to 45 miles per hour will continue to create areas of blowing and drifting snow. Temperatures will be in the teens and 20s in the mountains and in the 20s and low to mid 30s in the valleys.

If this weather forecast verifies the general avalanche is expected to be HIGH in all areas. Very large natural and human triggered slab avalanches with crown depths of three to six feet are likely and travel in avalanche terrain is not recommended.

TREND FOR MONDAY, FEBRUARY 10, 2014 AND TUESDAY, FEBRUARY 11, 2014
Snowfall is expected to continue but at a much lower intensity. The general avalanche hazard is expected to slowly decrease during the period.

For further information call 307-733-2664 or go to www.jhavalanche.org/. To report an avalanche observation call 307-739-2607 or email avalanche@jacksonhole.com.