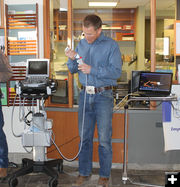 Dr. Wallace

Dr. Buck Wallace, Medical Director for the Pinedale Medical Clinic, demonstrates how the machine works.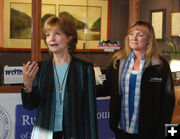 Donni and Laura

Donni Toth (L) President of the Sublette County Rural Health Care Foundation board and Laura Clark (R) Chairman of the Sublette County Rural Health Care Board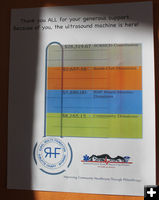 Fundraising thermometer

Money raised was a combination of many private donations and some taxpayer funds, showing the benefit of public-private partnership efforts.





Scroll down for more photos




Pinedale Clinic gets new Ultrasound machine
by Pinedale Online!
March 29, 2014

On Friday evening, March 28th, the Sublette County Rural Health Care Foundation (SCRHCF) held a reception at the Pinedale Medical Clinic to show the public the new Ultrasound diagnostic unit acquired for the Sublette County Rural Health Care District (SCRHCD).

The Foundation set out on raising funds to support acquiring this unit several years ago after several doctors spoke to Foundation board members and described their need for this kind of unit. The doctors saw a real need for this and the Foundation agreed. The Foundation worked with the Health Care District Board to find an appropriate unit and worked to secure funding to purchase it. Funding was raised from a combination of private donations, employee contributions, Rural Health Care Board member donations, and taxpayer dollars. The unit and training software cost a little over $45,000.

Health Care Foundation President Donni Toth spoke noted the cooperation of the District, the Scrub Club (contributions from the medical clinic staff), individual Foundation Board of Directors member donations, and the nearly 25% of the cost received from Sublette resident personal donations.

Donni Toth also spoke of the Foundationís Families in Need program which provides financial assistance to families unable to pay for medical needs.

The Districtís Board Chairman, Laura Clark, highlighted the cooperation between the District Board and the Foundation Board in getting this important project accomplished.

The new ultrasound unit will enable quicker diagnosis of injuries and determination of whether a patient needs to be moved to another facility. In many cases, minutes count in saving lives, and this unit gives medical personnel that time advantage to make a diagnosis in many cases. This has potential to also save Sublette residents money. In the past, evacuations were sometimes done as a preventative measure based on their best available knowledge of the patientís condition, but that later proved to be unnecessary.

Dr. Buck Wallace demonstrated the unit and explained it will enable medical staff to have quick answers to make educated diagnoses of fast-developing trauma such as aneurysms and internal bleeding, or ectopic pregnancies. Making quicker diagnoses and correct medical treatment decisions will save lives. He also pointed out that ultrasound technology is non-destructive to the patient, unlike x-rays and cat scans.

The ultrasound unit will also be a source of income for the clinics. Until now, any patient needing an ultrasound was sent to an out-of-area medical facility because the technology wasnít available in the county. This revenue now will stay in the county to help support the Rural Health Care Districtís efforts to provide medical services to citizens.

The purchase of the ultrasound machine was the first capital expenditure effort by the Rural Health Care Foundation. Now the Foundation looks forward to another fundraising drive aimed to meet a need of the Big Piney-Marbleton Clinic.

Sublette County Rural Health Care Foundation Board members are:
Donni Toth, President
Bill Winney, Vice President
Cindy Van, Secretary
Nora Ferrand, Treasurer
Wendy L. Friend, Executive Director
Malenda Hoelscher, Health Care Administrator Advisory Member
Maxine Leckie
Dave Racich
Jill Hermstad
Dr. David Kappermann
Dr. Eliz Albritton

Photos by Dawn Ballou, Pinedale Online. Thank you to Bill Winney for his contribution to this article.