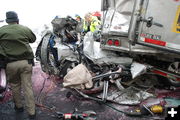 Rescue

Wyoming Highway Patrol troopers and first responders extricate two people from a crushed vehicle pinned between two semi-tractor trailers. Photo courtesy Wyoming Highway Patrol.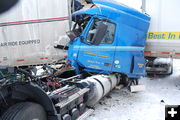 I-80 crash

The cab was knocked off the chassis of a tractor-trailer combination in the crash. The driver was unhurt. Photo courtesy Wyoming Highway Patrol.


I-80 reopens after 47-vehicle crash, 18-hour closure
by Wyoming Highway Patrol
April 14, 2014

Elk Mountain – Wyoming Highway Patrol Troopers and WYDOT personnel reopened westbound Interstate 80 after a pileup crash involving at least 47 vehicles forced the closure of the westbound lanes of the Interstate for approximately 18 hours.

The crash was reported just before 2 p.m. Sunday afternoon, April 13th approximately seven miles east of Elk Mountain and speeds on the Interstate had been reduced to 45 MPH at the time of the crash due to winter conditions.

Troopers are still attempting to identify exactly how many vehicles were actually involved in the pileup which occurred during snowy, windy, icy conditions that limited visibility. The actual vehicle count may go up as the investigation progresses.

Five crash victims were transported to Memorial Hospital of Carbon County in Rawlins and two were transported to Ivinson Memorial Hospital in Laramie. One of the victims transported to Laramie suffering serious injuries has since been transferred to a hospital in Fort Collins, Colorado.

Two of the crash victims in a Subaru vehicle were trapped for approximately two hours as troopers and first responders attempted to extricate them from their vehicle which was crushed between two tractor-trailer vehicles.

Troopers investigating this crash say speed too fast for the existing conditions by motorists is a contributing factor that led up to so many vehicles being involved.

Troopers across the State continue to work crashes Monday morning as roadways are slick to slick in spots. Motorists are reminded to obey the variable speed signs and to drive with care.