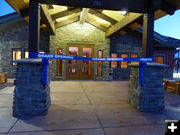 Grand Opening

The Sublette Center held the grand opening for their new independent living facility on Wednesday, November 19th.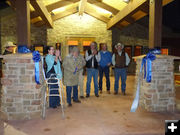 Cutting the ribbon

Paul Hagenstein got the honor of cutting the ribbon during the Grand Opening of the new Aspen Grove facility. The Sublette County Commissioners (L to R Joel Bousman, Jim Latta, Andy Nelson) and Sublette Center staff look on (L, Sublette Center Administrator Dawn Walker. Board member Jay Majanovich is standing behind Paul.)


New senior independent living community opens in Pinedale
Aspen Grove opens as part of the Sublette Center senior complex
by Dawn Ballou, Pinedale Online!
November 21, 2014

Aspen Grove, the newest Independent Living Community in Sublette County held their Grand Opening and ribbon cutting ceremony the evening of Wednesday, Nov. 19th. Guests were treated to a nice meal and beverages. Part way into the evening, everyone went outside for the ribbon-cutting ceremony. Long-time Pinedale resident Paul Hagenstein got to do the honors of cutting the blue ribbon. Sublette County Commissioners Jim Latta, Joel Bousman and Andy Nelson looked on.

The new adult retirement community is located at 280 Musket Ave, in-between the Sublette Center and Rendezvous Pointe Senior Center. The new facility offers studio, 1-bedroom and 2-bedroom apartments to anyone 60-years of age or older. The complex has 28 total units: 4 studios, 20 one-bedroom, 4 two-bedroom apartments. The complex is built to all be on a single story, with two wings and all apartments accessed from the inside by a central corridor, hotel-style. Each wing has coin-operated laundry services. Apartments have full kitchens with large refrigerator/freezers, electric stoves, dishwashers, and in-sink garbage disposals. Heat is by natural gas. Electricity is backed up by generators. Each room has special outlets, colored red, that are hooked up to the generator so that those outlets always get power even if the main power supply goes out. Bathrooms are wheel-chair accessible and showers are ADA. Wireless internet accessible in the building. Residents can sign up for either DirectTV or Dish, both of which are already built into the facility.

The new complex is about half rented as of this time. The room rates for the new facility are the same as for rooms in the independent living portion of the old building across the street. Studio apartments rent for $650/month. 1-Bedroom apartments are $905/month. 2-Bedroom apartments rent for $1,375/month. Rents include water, sewer, electricity, natural gas, heat, air conditioning, water utilities and trash removal, as well as weekly housekeeping services. Exterior and yard maintenance are also included. Pets are allowed, but there is a hefty security deposit to have them in the new building.

The complex was built with most money coming from Sublette County, which owns the buildings. The Town of Pinedale put in $1 million towards the building construction project. Total cost was about $6.2 million. Construction began in August, 2013. Groathouse Construction was the general contractor. The County leases operation of the facility to the Sublette Center, a non-profit organization led by a 7-member Board of Directors. Most donations towards the organization are tax deductable.

"Aspen Grove reflects the commitment of Sublette County to our senior citizens and I hope it lasts for many years," said Joel Bousman on behalf of the Sublette County Commissioners.

For more information, call 307-367-4161 or email screception@centurytel.net. Click here to go to their website: www.sublettecenter.org.

Contact information:
Aspen Grove Independent Living
250 Musket Ave
P.O Box 788
Pinedale, WY 82941
Phone: 307-367-4161
Fax: 307-367-4135
Email: screception@centurytel.net.
Website: www.sublettecenter.org.

Room staging was done by the Barn Door in Pinedale. Photos by Dawn Ballou, Pinedale Online!