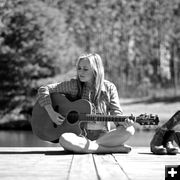 Cary Laine

Aspiring singer Cary Laine hopes her fans will help her raise funds to record her first album.

Cary Laine asks fans to go to Kickstarter campaign to help fund her first album
Aspiring singer has ties to Pinedale
March 26, 2015
Country/Americana artist Cary Laine is set to record her first ever full-length album, "Miss America." She is asking her fans to go to Kickstarter. Laine, who lived in Pinedale for a time, appeared on the 6th Season of NBC's Emmy Award Winning Show 'The Voice,' getting a 4-chair turn.

After making music for years, and living on the Gulf Coast, Cary Laine and her family headed out West for a new adventure. Little did she know, moving across the country to Wyoming would lead to a 4-chair turn on 'The Voice' and a battle between the coaches over her and her infamous red leather boots.

Since her feature on 'The Voice' in 2014, she has moved back to the Gulf Coast, written new music, traveled across the country playing shows, and is now gearing up to let the world hear just what's she's been up to.

Teaming up with producer, multi-instrumentalist, and long-time friend, Anthony Crawford (Neil Young, Steve Winwood, Dwight Yoakam) from groups Willie Sugarcapps and Sugarcane Jane, Cary Laine has begun recording her debut album, Miss Alabama, at Admiral Bean Studio in Loxley, Alabama. Her album is set to be released Summer 2015.

In order to finish her dream album, she is asking for help from her fans. Supporters can go online to
https://www.kickstarter.com/projects/carylaine/first-full-album-miss-alabama and help fund the project. The goal is $15,000 and will pay for recording, packaging, distributing, and promotion of the album. Rewards for helping make this dream a reality include early digital downloads from the new album, Miss Alabama, hand-written lyrics, signed CDs, a house concert with Cary Laine, and even some of her attire from the blind auditions of The Voice including her red boots.

The Kickstarter campaign runs until April 8th to raise the $15,000.