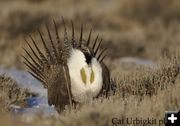 Sage Grouse

A male sage grouse strutting on a lek. Photo by Cat Urbigkit.


Spring's Natural Arrivals
by Cat Urbigkit, Pinedale Online!
March 17, 2015

Spring's arrival is Sublette County is heralded by the trilling calls of newly arriving sandhill cranes in hay meadows, and the gentle songs of bluebirds. It's also the time that Greater Sage Grouse begin to congregate on their leks (traditional breeding grounds).

The Wyoming Game and Fish Department offers the following tips for viewing sage grouse as they strut on their leks:

• Arrive at lek sites at least one hour before sunrise.
Don't drive onto the lek. Park away from the edge of the lek.
• Turn off the vehicle lights and engine.
• Use binoculars and spotting scopes to observe birds.
• Stay in your vehicle.
• Do not make loud noises or sudden movements.
• Do not leave until the birds do.
• Keep pets in your vehicle. Better yet, leave them home.
• Do not trespass on private land.
• Postpone your visit if roads are muddy.

Be especially cautious with viewing activities during late March and early April when breeding activity usually peaks. Late April is a better time to visit because most of the
breeding is complete but the males are still actively strutting. The weather is usually better too.

If you are not sure where to go to visit a lek, click on the link below to learn of a location near you.