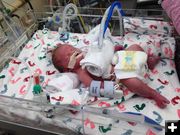 Baby Ella

Baby Ella was born 6 weeks early in January, 2015. She remains in the hospital in Utah with multiple medical conditions. A benefit fundraiser for the family is scheduled for May 2nd in Farson. All donations go to help the family with their medical expenses. The fundraiser is being hosted by Big Sandy Clinic in Faron.

Big Sandy Clinic Annual Benefit May 2nd in Farson
April 1, 2015
Big Sandy Clinic, in Farson, Wyoming, will hold their annual benefit fundraiser on Saturday, May 2nd at the Farson-Eden Community Center. Entertainment will be Cowboy Comedian Kip Attaway and Country Western band Sundowners. Dinner will be provided and there will also be a silent auction. The annual event is a benefit fundraiser. This year's donations will go to help a family who had a premature baby in January who is still in a hospital in Utah. She has multiple complications, has already had open heart surgery, and now has been diagnosed with CHARGE syndrome. The event is all 100% volunteer and by donation. Doors open at 5:30PM, dinner served at 6PM. Kip Attaway starts at 7PM. The silent auction winners will be announced at 8:30PM. The Sundowners concert will begin at 8:45PM. For more information contact Morgan Murdock, Big Sandy Clinic, 307-273-3055, www.bigsandyclinic.com.