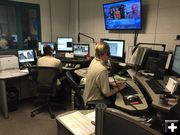 Dispatch Center

Communications officers (from left) Amber Lynn Schultz and Sarah Turner take calls in the dispatch center located in the SCSO detention center. Both received enhanced emergency medical dispatch training earlier this year in preparation for the update. Photo courtesy Sublette County Sheriff's Office.


Changes coming to handling of after-hours care calls
by Sublette County Sheriff's Office
July 30, 2015

The Sublette County Sheriff's Office, in coordination with the Sublette County Rural Health Care District, is excited to announce some upcoming changes to how after-care service is provided to our communities with regard to medical emergencies.

With the recent upgrade planned in the dispatch center, the implementation of Emergency Medical Dispatch (EMD) in already underway, with new training, certification and accreditation being completed this month. Each communications officer has undergone over 30 hours of training in EMD in order to prepare for the change. What this means for the public is enhanced dispatching to assist in a medical emergency. This may mean some additional questions will be asked, or the caller may be talked through giving some basic care instructions to the patient while awaiting the service of EMS.

In an effort to assist with the change, Sublette County Rural Health will be implementing a calling service with both the Pinedale and Marbleton Clinics to diminish the need to call 911 for non-emergency or routine calls. In the past, SCSO Dispatch has acted as that calling service, but with the new program, the hope is to educate the public to only call 911 for emergencies. "Our goal is to provide the best and most efficient dispatch services to our community," SCSO dispatch supervisor Cheryl Koessel said. "If we tie up the 911 line with a non-emergency call, it could mean the difference between life and death to another person. The goal with implementing EMD is to provide enhanced dispatching services to the community, which also means that we need help to streamline non-emergency calls to both of the clinics for after-hours calls."

The enhanced dispatching service is being installed over the next few weeks, with the hope to "go live" on August 12th. Anyone needing routine or non-emergency after-hours care will be asked to use the regular clinic phone numbers in either Pinedale, at 307-367-4133, or Marbleton at 307-276-3306. Upon calling either clinic after hours, the phone call will automatically transfer to an answering service that will pass on the caller's contact information to the provider on call. The provider will then return the non- emergent call.