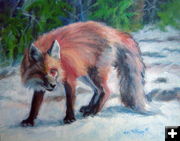 Red Alert

By Charmian McLellan, Pinedale. Oil.


Sublette County Fair 2nd Annual Lynn Thomas Memorial Art Show during Fair
by Mixed Media Artists
July 15, 2015

New artworks by local and out-of-county artists will go on display beginning Saturday, July 18, at the Community Hall, Sublette County Fairgrounds, Big Piney, Wyoming. Co-sponsored by the Fair Board and Mixed Media artists, the show will open on Sunday, July 19, and run until Sunday, July 26.

Encouraged by the success of last year's event, the sponsors are excited about the prospect of an even greater exhibit this year. The show is in memory of Lynn Thomas, a prominent western artist who passed away in 2009.

There will be a "Paint-Out" on Thursday, July 23, where artists will either paint on the fairgrounds premises or in the Community Hall. This will be followed by a reception at 6:00PM and art auction, conducted by LaBarge auctioneer, Tim Sims, at 7:00PM. The public is cordially invited to attend.

The Waterhole, Bank of Sublette County, Farm Bureau Insurance, and First Bank have generously committed to purchase awards. Well-known Jackson artist, Kathy Wipfler, will select "Best of Show". Other awards are "Director's Choice" and "People's Choice".

There are no fees or contributions asked of the artists. As an "artist friendly" show, all sales proceeds go to the artists. At present, this is a non-juried show, but the sponsors are striving to promote it as a prestigious, "destination" event. Artists 18 years of age and older wishing to participate may deliver artwork to the fair office beginning July 13. Any art deemed inappropriate for family viewing or paintings improperly framed will not be accepted.

The Mixed Media art group has elected to sponsor a "Young Artist" between the ages of 12 and 18 at each year's show. This year's "Young Artist" is Bailey Schupp.

For more information about the show and entry instructions and qualifications, please contact Charmian McLellan, art show director, at 307-537-5488. For information regarding Mixed Media's "Young Artists" program, contact Kay Meeks, 307-859-8828.