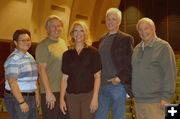 Oklahoma cast

From left to right: Ivan Cano-Stage Manager, Curt Haws-Curly, Kim Buchanan-Laurey, Mark Hennessy-Director, George Welch-Musical Director & Conductor. Photo courtesy Pinedale Fine Arts Council.


Cast announced for Oklahoma!
by Pinedale Fine Arts Council
September 30, 2015

The Pinedale Community Theatre Board is excited to announce that Mark Hennesey, director for the musical Oklahoma! Has selected the cast for the November 5, 6 and 7 production.

The cast is composed of Sublette County residents and ranges in age from 12 to 65. Individuals who will participate are
Curt Haws, Curly
Kim Buchanan, Laurey
Lorie Loftus, Aunt Eller
Shawn Buchanan, Jud Fry
Gannett Loftus, Will Parker
Taylor Ruckman, Ado Annie
Adam Stucki, Ali Hakim
Kelly Tegeler, Cord Elam
Neil Stroklund, Ike Skidmore
Ritamari Martin, Grandma Carnes
Hayley Ryckman, Gertie
Greg Allen, Andrew
Matt Daniels, Joe
Katie Smith, Ellen
Lauren McKeever, Virginia
Rebecca Stroklund, Vivian
Kendra Cross, Kate
Wes Hathaway, Mike
Ian Douglas, Slim
Isaac Loftus, Fred
Rachel Weksler, townswoman
Michelle Helm, townswomen
Cassidy Bateman, townsgirl
Bethany Essington, townsgirl
Preslie Ann Simkins, townsgirl

The PCT Board is thrilled that the production will be accompanied by a live orchestra conducted by George Welsh and comprised of
Pianist, Marianne Mrak
Strings, Chandra Stough and Erica Johannes
Flute, Sue Holz
Trumpets, Justin Smith and Craig Sheppard
French horn, Ann Stephens
Tuba, Luke Myszewski
Percussion, Ryan Ptasnik

The professional staff who will lead the production are Mark Hennessay, actor/director; George Welch,musical director/conductor; Jason Celaya, choreographer; and Ivan Dario Cano, state manager supported by the Pinedale Community Theatre Board members, Valerie Lee, Jo Crandall, Madeleine Murdock, Sue Holz, Kari DeWitt, Candy Herda Scott and Curt Haws

Oklahoma! is the first musical written by Rodgers and Hammerstein II. The show won a Pulitzer Prize in 1944 and features dancing, lariat-twirling, and many familiar songs including Oklahoma, Oh What a Beautiful Morning, Surrey With The Fringe on Top, Kansas City and People Will Say We're in Love which were written for this show and have become all-time favorites.

Tickets will be available at the Cowboy Shop and Office Outlet in Pinedale, Office Outlet in Big Piney and on line at the Pinedale Fine Arts Council website starting Oct. 7. Adults are $15 and students $7.