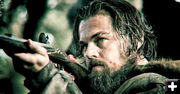 The Revenant

Clay Landry helped Leonardo DiCaprio and other actors in the movie "The Revenant" learn to scorrectly hoot 1800s era black powder firearms.


Historical Society Spring Thaw Party March 10
Special guest speaker Clay Landry will talk about the making of the Hollywood movie 'The Revenant'
by Pinedale Online!
March 4, 2016

The Sublette County Historical Society will be hosting their annual Spring Thaw Party and annual membership meeting on Thursday, March 10th at the Museum of the Mountain Man in Pinedale. The event starts at 6PM with a short business meeting for the membership to elect new board members and officers and talk about highlights of the past year, future developments and exhibits of the Museum, and ongoing projects.

Special guest speaker this year will be historian Clay Landry, who has been a fur trade consultant to the Museum for many years as well as an author for the Museum's Rocky Mountain Fur Trade Journal. Landry had an opportunity to be a fur trade material culture historical consultant on the Hollywood movie "The Revenant", which recently won three Academy Awards. The movie is loosely based on the 1823 story of mountain man Hugh Glass surviving being mauled by a grizzly bear while out West and his struggle to get back to civilization and enact his revenge on the men who abandoned him alone in the wilderness. Clay will be giving a discussion on his first-hand experience working closely with the director and actors in the film.

Mr. Landry had been a member of the American Mountain Men since 1991, Clay has been organizing and leading horse trips, using only gear and tack appropriate to the Fur trade era, to the AMM National Rendezvous since 1987. A boot and saddle maker, Clay and his wife Jamie own and operate "Historical Leather Works," which specializes in crafting historically correct fur trade era boots, saddles and horse gear.

The Historical Society created a new website to help tell the real story of the Hugh Glass grizzly bear mauling incident historical fact vs the fiction in the movie, www.hughglass.org.
The title of the talk Thursday evening will be "A compromise between historical fact and art - the making of the Revenant." Cocktails and hors d'oeuvres start at 6PM. The program starts about 7PM. Everyone welcome.