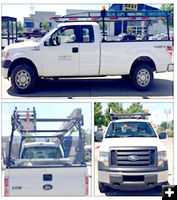 Missing UTA truck

Anyone who may have information about the whereabouts of the missing UTA truck can contact law enforcement authorities at 307-367-4378.


DCI takes lead on search for missing UTA truck
by Sublette County Sheriff's Office media release
May 18, 2016

(Pinedale, Wyoming – May 18, 2016, 2:19PM) A search for the Utah Transit Authority (UTA) truck that had gone missing Thursday night with Kay Porter Ricks from the Salt Lake City area was put on hold by the Sublette County Sheriff's Office as additional resources.

Ricks, whose body was recovered late last night in the Kemmerer area of Lincoln County, had last been seen driving a white Ford F-150 with a truck bed mounted equipment rack, UTA markings, and bearing UT license plate #206886. The vehicle has still not been found.

On Saturday, both Flint Wayne Harrison, 51, and his son, Dereck James "DJ" Harrison, 22, were taken into custody without incident after fleeing Centerville UT earlier last week, following the kidnapping and assault of a woman and her four daughters. The men are being held at the Sublette County Detention Center and have each waived the extradition process and will be returned to Utah to face charges stemming from the incident in Centerville.

Shortly after a search was being organized on Monday morning by the Sublette County Sheriff's Office for the weapons that had reportedly been in Dereck's possession prior to his arrest, information was received about Ricks and the missing UTA truck. Though no evidence had been revealed connecting the two cases at that time, the search changed focus and all vehicle-accessible areas in the Fremont and Half Moon Lake areas were cleared.

"We want to eliminate any possibilities," Colonel Mark Farrell said of the reason to redirect the search. "We can't rule anything out and we want to do everything we can to aid Utah authorities."

At approximately 10pm last night, confirmation was received that Ricks' body had been found in Lincoln County, and agents from the Wyoming Division of Criminal Investigations and the Federal Bureau of Investigations began working with Lincoln County Sheriff's Office to investigate the death.

The Sublette County Sheriff's Office continues to assist multiple agencies in their investigation, including Wyoming DCI, FBI, Lincoln County Sheriff's Office, Utah Transit Authority Police Department and Centerville Police Department. Utah Division of Public Safety has offered a dive team and sonar equipped boat to assist in the search and should be arriving in the Pinedale area sometime this evening.

A command center has been set up at the Tip Top Search and Rescue Building on Bridger Avenue in Pinedale to coordinate the multi-agency search.