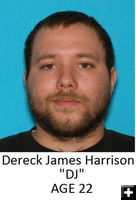 Apprehended

Dereck James "DJ" Harrison turned himself into deputies Saturday evening and was arrested without incident.


Kidnapping suspect apprehended without incident
by Sublette County Sheriff's Office media release
May 14, 2016

(Pinedale, Wyoming – May 14, 2016, 11:07PM) At approximately 10:00 pm this evening (Saturday, May 14), Dereck James "DJ" Harrison (22), was arrested without incident from the Half Moon Lake area and booked into the Sublette County Detention Center. The arrest ends a day-long search involving members of the Sublette County Sheriff's Office, Sweetwater County Sheriff's Office, Wyoming Highway Patrol, Green River Police Department, Rock Springs Police Department, Utah Department of Public Safety, US Marshall's Service and US Forest Service.

Just after the search was suspended for the night, law enforcement officials who were manning the roadblock and patrolling the roadway, observed a male matching the description of Dereck, walking south towards the deputies approximately 1.5 miles from where the roadblock was located.

Search teams on the ground and in the air had been searching the area since dawn, after Dereck's father, Flint Wayne Harrison (51), turned himself in overnight to the Sublette County Detention Center on warrants stemming from his part in the kidnapping and assault incident that occurred in Centerville, UT.

"This is an incredible end to a very stressful day," Sheriff Stephen Haskell said. "Watching the coordination of our agencies working together was phenomenal. We have incredibly skilled officers in our area and it was a very good end to something that could have gone very badly."

Dereck and his father will both most likely be extradited to Utah to face charges for the kidnapping and assault. It is unknown at this time whether they will face additional charges in Wyoming.

The Sublette County Sheriff's Office would like to thank the many agencies who assisted or offered their assistance in this case.