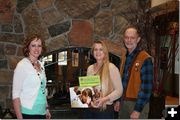 Glasses donation

Pinedale Lion Dan Jones picks up recycled eye glasses from Rocky Mountain Bank. With him are RMB Market Manager, Bev Wright (center) and Tera Adams Customer Service Manager. Bev says that several eyeglass donations have been dropped off at Rocky Mountain Bank throughout the past year. "We would like to express our gratitude to those that made a donation and would encourage the community to continue to support the Pinedale Lions Club."


Vision not Sight that makes the difference
by Pinedale Lions Club
May 18, 2016

Over the last few months, many will have heard of friends and acquaintances who have lost their jobs as work in the oil field began to up. When times are tough, and there doesn't seem to be sufficient funds to go around, it is often the local 501©3 organizations who can help with grants for requests which meet the mission of the organization. The Pinedale Lions Club has a vision program to assist the local needs.

Pinedale Lions Club encourages people in need of financial assistance for new eye glasses to contact the Department of Family Services DFS (111 N Sublette, Pinedale or Tel 307 367 4124). DFS assist in the screening before sending qualified applicants to local Lion Dan Jones to co-ordinate the financial side. "About 10% of our project funds go towards helping with vision requests" says Dan "but that figure can rise and fall with the demand". Recipients of a Lions Club vision grant are kept confidential and Lion Dan does not disclose names to even the club members.

As well as financial help, the Pinedale Lions Club has eye glass collection boxes in seven locations in Pinedale. Rather than allow unwanted eye glasses to sit in a drawer and gather dust, everyone can help by recycling old prescription, reading and sunglasses with plastic or metal frames. Children's glasses are especially needed. In Pinedale, Lions Recycle for Sight boxes can be found at Rocky Mountain Bank, Rendezvous Pointe, Bank of Sublette County, Public Health Nurse's Office (up next to the Medical Clinic), Rebel Auto, Clear Creek Vision (the local eye doctor) and The Food Basket. Any business willing to display a collection box should contact the Pinedale Lions Club Tel 307 360 6272.

Annually Lion Dan collects and sends up to 400 glasses from Sublette County to the regional Lions Eyeglass Recycling Centers (LERCs) in California. LERC volunteers clean, sort by prescription strength and package the glasses. Most of the recycled glasses are distributed to people in need in developing countries where they will have the greatest impact.

The Lions have gained worldwide recognition for their work to improve sight and prevent blindness. The vision program encompasses Lions Eye Banks that provide eye tissue for sight-saving surgeries for those at risk of losing their vision as well as surgical & research hospitals. The closest facilities are the Rocky Mountain Lions Eye Bank and Rocky Mountain Lions Eye Institute in Denver, CO with millions of dollars raised annually throughout the Lions Club volunteer organization to support their work.

For the visually impaired, the Lions of Wyoming own the Allen H. Stewart Lions Camp on Casper Mountain.Lions statewide support an annual week-long nationally certified School for the Blind each July which teaches children life skills in a fun outdoor environment.

Said Helen Keller "The only thing worse than being blind is having sight and no vision." The vision of the Pinedale Lions Club is to continue provide financial help for vision-related requests and to seek help from our community in the drive to change someone's life through a pair of recycled glasses.

Come out and help with the Pinedale community clean up this Saturday May 21. Volunteers should meet at Rendezvous Pointe at 8am and then return around 11:30am to enjoy a BBQ meal provided by the Pinedale Lions Club.