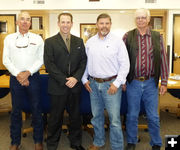 Sheriff selection

Pictured (L to R): Commissioner Jim Latta, K.C. Lehr, Commissioners Andy Nelson and Joel Bousman. Photo by Dawn Ballou, Pinedale Online!


K.C. Lehr appointed as new Sublette County Sheriff
by Pinedale Online!
June 28, 2016

The Sublette County Commissioners held interviews of the three candidates up for consideration to fill the opening for Sublette County Sheriff. The Commissioners met in executive session to interview each man. After two hours, they announced their decision.

Commissioner Andy Nelson first thanked the Republican Central Committee for their hard work in the selection process to present the three candidates from the field of 16 interested applicants. "They presented three excellent candidates," Commissioner Nelson said.

Next the Commissioners thanked the three applicants. "The County would be in wonderful hands no matter who of these three men were selected."

Commissioner Bousman moved to appoint K.C. Lehr to fill out the remainder of the term. The vote in favor was unanimous.

The Swearing-In Ceremony will be on Wednesday morning, June 29th at 8:30AM in the District Courtroom of the Sublette County Courthouse in Pinedale.