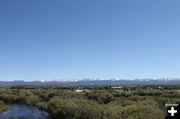 Normal webcam view

This is the normal view from the Pinedale DEQ Air Quality webcam for comparison.


Forest fire updates July 27, 2016
by Pinedale Online!
July 27, 2016

8:30AM: Lots of smoke in the Upper Green River Valley of NW Wyoming this morning due to wildfires in the area.

The Cliff Creek Fire is at 21,483 acres, 10% contained, burning 5 miles north of Bondurant. US 191/189 through Hoback Canyon open, however no stopping or passing in the canyon. Granite Hot Springs and area remain closed. Public meeting about the Cliff Creek Fire tonight, July 27 at 6PM at the Kendall Valley Fire Station, 2470 Hwy 352, north of Cora. More Cliff Creek Fire info here.

The Lava Mountain Fire, burning northwest of Dubois, is at 11,100 acres, 0% contained. Hwy 26 is open with No Stopping Zone in the fire area. No structures lost to date, but evacuations are in place. The Continental Divide Trail is closed from Sheridan Pass to Pilot Knob. Union Pass road still open for the moment. Currently, the south flank of the fire is pushing east and hooking around near the Sand Butte area. If the direction of spread continues, the fire will be lined up to be pushed by the wind towards the Union Pass road. For these reasons the following areas are in stage "GO" and should evacuate immediately: Union Pass, Warm Springs, Porcupine, and Hat Butte. More Lava Mountain Fire info here.