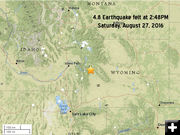 Hoback Earthquake

4.8 earthquake felt Saturday, August 27, 2016 in Sublette County and western Wyoming.


4.8 Earthquake reported in western Wyoming
by Pinedale Online!
August 27, 2016

Saturday, August 27, 2016, 3:00PM: An earthquake has been reported by many people across western Wyoming today around 2:48PM. No damage has been reported. The quake shook for from 10 to 15 seconds and rattled things in houses. The National Earthquake Information Center in Golden, Colorado reports the earthquake was a magnitude 4.8 on the Richter scale and occurred about 2:48 pm MDT approximately 24 miles east of Hoback, Wyoming. Reports from people feeling it have been centered in Teton and Sublette counties and included people in Kendall Valley, Hoback Ranches and Daniel and as far away as Lander and Thermopolis. Updated information is available at earthquake.usgs.gov and here.