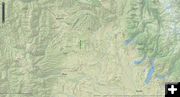 Overall area view

Graphic courtesy National Weather Service - Riverton, Wyoming office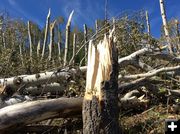 Snapped tree

Snapped tree Photo by Chris Jones, National Weather Service - Riverton, Wyoming office, site inspection Sept. 7, 2016.



More Snapped Trees

Photo by Chris Jones, National Weather Service - Riverton Office, site inspection Sept. 7, 2016.


More on the Merna Tornado
EF-1 tornado in Sublette County, Wyoming on Sept. 4, 2016
by Dawn Ballou, Pinedale Online!
September 8, 2016

On Wednesday, Sept. 7th, Chris Jones, Meteorologist with the National Weather Service out of Riverton, came to Sublette County and met up with Jim Mitchell with Sublette County Emergency Management to go out to the Rim Ranch to do an on-the-ground inspection and measurements of the damage from the tornado that touched down on Sunday afternoon, September 4th.

Based on that inspection, they say the Merna tornado was rated as an EF-1 with estimated winds of 100 to 110 miles per hour. The path of the tornado on the ground was measured at 2.45 miles and it was 300 yards wide at its widest point. Some of the blown down trees fell on some fence-line, but other than that there was no damage or injuries due to this tornado.

The National Weather Service has posted a page on the Riverton NWS website about this tornado including a track map of the path and more photos from their site inspection on Sept. 7th. Click on this link to get to that page: http://www.weather.gov/riw/SubletteTornado2016Sept4.

Below is the NWS tornado report.
__________________________________________

Sublette County Tornado - Sunday, September 4

Overview
A thunderstorm rapidly developed near Merna, Wyoming, on the afternoon of Sunday, September 4, 2016. The storm strengthened and moved north across several private ranches and spawned a funnel cloud. The funnel eventually touched down as a tornado and caused areas of considerable tree damage just below The Rim, between Merna and Hoback Ranches. Large, old growth aspen trees of 12 to 15 inches in diameter were snapped in half, and other trees were topped, twisted, and/or uprooted. Hail up to the size of ping pong balls also fell near The Rim during the height of the thunderstorm. The tornado was photographed by many people from various angles and locations. The time of the tornado was estimated by comparing the location of the damage with radar imagery.

Several photos of the tornado and funnel cloud can be found by visiting PinedaleOnline.com. Thank you to everyone who assisted the NWS and Sublette County Emergency Management by contributing photos, maps, and other information. A very special thank you to Terry Fieseler for his generous help during the damage survey.

If you have photos, please send them to the NWS at nws.riverton@noaa.gov and include the time and location of where your photo was taken, and which direction you were looking. Each piece of information is helpful in establishing if the tornado may have been on the ground before or after what is already known.





Related Links
Funnel Cloud – Tornado - Northeast of Merna, Northwest of Daniel on Sunday, Sept. 4, 2016, posted on Pinedale Online, September 5, 2016