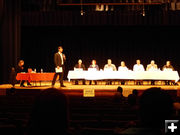 Nov. 3 forum in Big Piney

The Sublette County Commissioners candidate forums were hosted by the Sublette County Chamber of Commerce, the Pinedale Roundup & Sublette Examiner newspapers (Wyoming Newspapers), KPIN 101.1 FM Radio, and Pinedale Online! Pictured here is the Nov. 3 forum at the Big Piney Fine Arts Auditorium. Sublette County citizens will select 3 new commissioners from these candidates to increase the current board from 3 to 5 commissioners.


Links to recordings of Sublette County Candidate forums
by Pinedale Online!
November 3, 2016

For those who missed attending the forums held in October and November for the Sublette County Commissioner and Rural Health Care Board candidates, here are links.

Our apologies for having the wrong YouTube link posted in our earlier announcement for the November 3rd forum in Big Piney. That was the link we were given and we didnít become aware it was the wrong link until the forum was well underway. Viewers can still see the full recording of the forum by going to the link below.

Recording of Commissioner candidate forum held in Big Piney on Thursday, November 3rd (YouTube):
https://youtu.be/0wJ55Ihm6nU

Recording of the Commissioner candidate forum held in Pinedale on Thursday, October 27th (YouTube):
https://www.youtube.com/watch?v=AHdacqzshAY

Link to the KPIN 101.1FM audio recording of the Rural Health Care Board candidates held on Wednesday, October 26th in Pinedale (audio only):
www.pinedaleonline.com/audio/HealthForumKPIN.mp3

Here is a link to more candidate information.

The General Election will be held on Tuesday, November 8th.