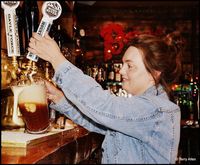 Brewmaster Emily Johnston fills a pitcher of Mountain Woman Ale for the tasting. Photo by Terry Allen.

Pink Boots Collaboration Brew Tasting (posted 4/25/18)
At Wind River Brewing Company in Pinedale
Terry Allen
Pink Boots Collaborators (female beer lovers...and me) got together at the Wind River Brew Pub Tuesday evening, April 24th to taste Emily Johnston's creation, Mountain Woman Ale.

On March 8th we did a story on this brew just as ingredients went into the vat. We all got to inhale the heady aroma of the hops combination Emily created for the brew. They were, Palisade®, Simcoe®, Mosaic®, Citra® and Loral®. It is now a month and half later and it is ready, on tap and delicious!

Emily made twenty barrels. There are two kegs per barrel and there are about 15-1/2 gallons per keg. So if you do the final calculation, it means you better get down there and try a pitcher before it is gone, because Emily told me: "I want to drink it all."

Ritchie always seems to stay quietly in the background, but I wanted his opinion. "She did a really good job on her own," he said. "It's a real nice hoppy pale ale."

I think Emily really does like her own beer. She was carrying it and sipping it comfortably as she spoke about it with the guests. "On the first sip, the Golden Promise malt comes thru very nicely, right after that comes the hops," she said.

Janet liked the taste combination. "It is more fruity than most IPA's, and it is delicious with the spinach and artichoke dip."

The most enthusiastic adventure racer and adventure promoter I know is Darren Hull. He came in a bit late, face flushed from a 3.1 mile evening run. He was carrying his daughter Kinley in one arm and accepted the new beer in his other. "That's phenomenal!" he said. "Well worth the run to get here."

I went up on the steps to a vat and looked around the room to take a shot of the gathering. There was sort of a glow in the room. The beer was a success and everyone knew it. Maybe that glow was coming from Emily...or maybe it's just nice to have a Brewmaster without a mustache.

Thank you Dawn Ballou at Pinedale Online for sponsoring this story.

Click on this link for more pictures: Pink Boots Collaboration Brew Tasting

Terry Allen: txpartisan@gmail.com

Related Links:
Pink Boots Collaboration Brew Day By Terry Allen, Pinedale Online! March 8, 2018
Pink Boots Society
www.windriverbrewingco.com Wind River Brewing Co., Pinedale, Wyoming
Wind River Brewing Company Facebook page

---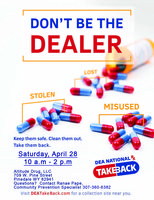 Prescription Drug Take-Back Day in Pinedale on Saturday, April 28th at Altitude Drug.

Prescription Drug Take-Back Day April 28 in Pinedale (posted 4/25/18)
The Sublette County Sheriff's Office, in partnership with Altitude Drug and the Prevention Management Organization, will host a prescription drug take back day on Saturday, April 28th in Pinedale. Community members are invited to come to Altitude Drug from 10:00 AM-2:00 PM and confidentially and securely dispose of unused or unwanted prescriptions.

The Sheriff Office will have a deputy on site to answer questions on local drop boxes and additional safe disposal of medications.

Deterra at home safe prescription drug disposal kits will also be provided for community members to take home provided by the Wyoming Department of Health.

If you are unable to make the prescription take-back time on Saturday, April 28th at Altitude Drug, there are a couple options for safe disposal of your medications. The Wyoming Medication Donation Program (WMDP) reduces medication waste and improves access for low-income Wyoming residents who lack adequate prescription coverage. The WMDP provides immediate prescription help by re-dispensing acceptable donated medications and providing advice on lower cost alternatives.

Also, the Sublette County Sheriff's Office participates in an ongoing drug disposal program. The program is designed for citizens to safely and confidentially dispose of unused and expired prescriptions and over the counter medications by placing them in a secure prescription drug drop box. Sublette County has three drop boxes for disposal throughout the county.

They are located at:
Altitude Drug
709 W. Pine Street
Pinedale, WY

Sublette County Justice Building
40 S. Fremont Avenue
Pinedale, WY

Marbleton -Sublette County Sheriff Office
19 W. Fourth St.
Marbleton, WY

For more information about the Sublette County Sheriff Office prescription drug disposal program, visit: http://www.sublettewyo.com/index.aspx?NID=425

For information on the Wyoming Medication Donations Program, visit: https://health.wyo.gov/healthcarefin/medicationdonation/

For information about the Sublette County Prevention ongoing efforts, visit:
www.sublettepmo.org

For more information contact Ranae Pape, Community Prevention Specialist, 307-360-6382.

---
Memorial Service for Lois Decker April 25 (posted 4/25/18)
A Memorial Service for Lois Decker will be held on Wednesday, April 25 at 10:30AM at St. Andrews in the Pines Episcopal Church in Pinedale.

---
Big Piney-Marbleton Airport Fly-In and Car Show June 30 (posted 4/25/18)
Mark your calendar: The Big Piney-Marbleton Airport Fly-In and Car Show will be held on Saturday, June 30, 2018 from 8am to noon. There will be a free pancake breakfast. Bring the family, enjoy breakfast on us, and see the airplanes. Please call Phil Stevens at 307-231-6244 for more information.
---
Graveside Funeral Service for Lavena Dobbs April 27 (posted 4/25/18)
Covill Funeral Home
A Graveside Funeral Service for Lavena Dobbs will be held Friday April 27th at 11:00 AM at the Pinedale Cemetery. (July 27, 1920 – April 16, 2018)

---
Memorial Funeral Service for Anita Bohm April 27 (posted 4/25/18)
Covill Funeral Home
A Memorial Funeral Service for Anita Bohm of Marbleton will be held Friday April 27th at 2:00 PM at the Marbleton Senior Center.

---
Rendezvous Dance & Cheer Open House April 28 (posted 4/24/18)
Everyone is invited to an Open House at Rendezvous Dance & Cheer Dance Studio on Saturday, April 28th from 10AM to 1PM. Sign up for summer camps, meet the instructor Frances Cuprill, and ask about school year classes. 306 S. Bridger Avenue in Pinedale. Also, purchase tickets to our show "The Golden Ticket" premiering Saturday, June 9th. For more info call 307-367-4511 or go to www.rendezvousdanceandcheer.com.

---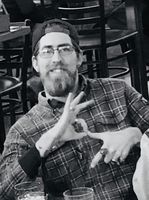 David Nicholas Clover. Photo courtesy the Clover family.

Memorial Service for David Clover June 16 in Bondurant (posted 4/24/18)
Clover, 26, loved freedom of riding on a 'steel horse'
A memorial service for Jackson native David Nicholas Clover has been scheduled for 1 p.m. June 16 at St. Hubert the Hunter Episcopal Church in Bondurant. A celebration of David's life and BBQ will follow.

Clover, a former U.S. Marine Corps sergeant, died in a motorcycle accident on March 31 in Phoenix. He was 26.

His family provided the following.

David was born in Jackson on July 30, 1991, the third child of Robin Parks and George Thomas Clover. His parents, along with David's brother, Thomas S. Clover, moved to Bondurant in 1992. David attended elementary school in the one-room school house under the tender tutelage of Terry Postma, and graduated from Pinedale High School in 2009.

David spent his summers working in his family's outfitting business, traversing the backcountry of Yellowstone National Park and the Teton wilderness. David became a fine horseman and accomplished hunter. While in high school David manned the climbing wall at the Pinedale Aquatic Center, an experience that added to his adventurous spirit.

Before graduating high school, David decided to follow his dreams and enlist in the Marine Corps to serve his country. He went to boot camp in San Diego and was stationed in Twenty Nine Palms, California. David rose through the ranks as he trained in tax preparation and mechanics. He became certified as a Marine Corps martial arts instructor, winning respect along the way with his intellect and enigmatic sense of humor.

While in the Marine Corps, David's love for motorcycles began. This love ran so deep that he later told his family riding his motorcycle was to him like horseback riding was to them: finding his freedom on his steel horse.

In 2014 David received an honorable discharged as a corporal from active duty and returned home to Wyoming, where he served in the Marine Corps Reserves in Camp Williams, Utah while working a variety of oil field jobs in the Pinedale area. David's love of motorcycles followed and he found much joy in working on his bike and riding the open roads with friends.

Honorably discharged from the Marine Reserves as a sergeant in June, David moved to Meridian, Idaho to be near his brother, maternal grandparents, and multiple aunts, uncles and cousins. It was there David decided on a career as a motorcycle mechanic and began setting the cogs in motion to attend the Universal Technical Institute's Motorcycle Mechanic Institute in Phoenix. He moved to Arizona in November of 2017 to begin classes and training for this new, exciting chapter of his life.

David had found his niche and excelled at UTI-MMI, consistently testing at the top of his class. He made new friends through school and the Phoenix-based nonprofit Determined Guardians veteran organization. At the time of his death David was doing what he loved: riding his steel horse with friends, the wind in his impressive beard and easy smile beaming.

David is survived by his parents, Robin Parks and George Thomas Clover, of Bondurant; brother Thomas Samuel Clover, of Star, Idaho; grandparents Bonnie and Dr. William Collins, of Sequim, Washington; step-grandmothers Sheryl Parks, of Meridian, Idaho, and Heather Clover, of Etna; uncle Galloway Morris Clover, of Jackson; aunt Clara Elise "Ceci" Clover of Victor, Idaho; aunts and uncles Kendra Parks and Marty Pieroni of Meridian, Idaho, Samantha Parks and Brandon Pitts of Lake Oswego, Oregon, Tia Parks of Lakewood, Washington, Monique Parks and Mike Schiff of Burbank, California, and Tiffany Parks and Claudio Ianniello of Rome, Italy; and a host of loving cousins. He's also survived by his dog Odin, named after the Norse god "Odin the Wanderer."

David is preceded in death by his sister, Clara Elizabeth Clover; grandfather Samuel Conant Parks; grandparents Elise Morris and George Nicolas Clover; and a whole bunch of other adventurous and interesting people who beget them. Amen.

In lieu of flowers the family asks a donation be made to Determined Guardians, 608 E. Griswold Rd., Phoenix, AZ 85020.

The family wishes to thank all the people who made David the special person he was, especially his teachers, schoolmates, friends and fellow steel horse riders, veterans, and his classmates and instructors in Arizona.

What David's life lacked in years was made up for with his intense loyalty to family and friends, and his indomitable zest to live an enormous life. Follow your own dreams through the wilderness of life. Semper fidelis.

---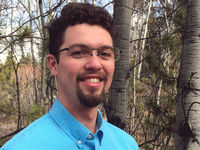 Isaac Best courtesy photo

Isaac Best announces candidacy for Pinedale Town Council (posted 4/24/18)
Isaac Best media release
I am running for town council because I want to see Pinedale continue to be the town that I fell in love with. When I first moved to Pinedale in September 2015, I only intended to stay until I had saved enough to finish college. But after living here for 2.5 years (and graduating with my bachelor's), I decided I wanted to stay. I will bring to the council a fresh perspective, a willingness to listen and to change my mind, and respect for both the residents of Pinedale and the position of councilman.

---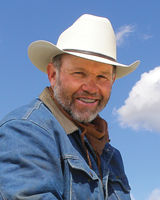 Photo courtesy Albert Sommers

Albert Sommers announces intent to run for HD 20 (posted 4/24/18)
Albert Sommers media release
Hello Sublette County, this is Albert Sommers. I intend to run for re-election to House District 20, and I am asking for your support. I have had the pleasure of serving Sublette County in the Wyoming House of Representatives for three terms (six years). Though HD 20 does not encompass all of Sublette County, I have always sought and valued input from all county residents.

During my time in the Legislature I have served on three standing committees: Minerals, Business, and Economic Development; Education; and currently the Appropriations Committee. I have also served on one Select Committee on digital privacy, and on multiple select committees dealing with education issues. I have served as Co-Chair of the Select Committee on School Finance. I have steadfastly supported K12 education and more local control of education. During my most recent term in office, I had the privilege of being elected Majority Whip by House Republicans.

As a member of the Appropriations Committee, I played an integral part in developing Wyoming's budget for the 2019/2020 biennium. This committee requires a tremendous amount of time, but I have learned a great deal about the internal workings of state government. Wyoming needs to obtain a greater rate of return from its investments, as we have billions of dollars in constitutionally inviolate trust funds, and we need to continue to modernize our revenue flows to reflect where our challenges currently exist. By starting down this path last session, we found a way to replace the loss of federal Coal Lease Bonus money, which had paid for K12 major maintenance and capital construction for the last decade. Wyoming must continue to seek economic diversification in all regions of the state, while realizing that our state engine still runs on coal, oil, and natural gas.

If elected, I will continue to examine issues brought forth by you folks, and try to direct pertinent issues to the appropriate committee, or draft a bill in response. I have had the good fortune to be able to help local government and county citizens navigate the bureaucracies of state agencies on several occasions.

Issues facing our county and state will change over time, and if elected I will continue to seek and articulate solutions to these challenges. I believe politicians at all levels need to maintain civility and work together to find solutions to the issues facing government and the people. By bringing common sense, hard work and integrity to the state legislature, I have gained the respect of my colleagues and support for issues of importance to Sublette County and Wyoming. I see the best government as that closest to the people. If elected I will continue to look for guidance from the leaders and elected bodies of Sublette County, but I will value the opinions of all county citizens.

I can be reached at albert@albertsommers.com or go to my website www.albertsommers.com.

Related Links:
Sommers Ranch
---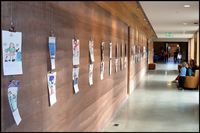 Children's art at the Sublette County Library: 'What I want to be when I grow up.' Photo by Terry Allen.

Milk & Cookies Art Exhibit & Reception (posted 4/21/18)
What I want to be when I grow up
Terry Allen
Seventy-one first graders from Pinedale Elementary School in Pinedale are the featured artists on the Sublette County Library's beautiful rammed earth exhibit wall this month.

The title of the exhibit is: "What do I want to be when I grow up?" It was designed by Adult Program Coordinator, Judi Boyce to compliment the Smithsonian exhibit in the Lovatt Room, "The Way We Worked."

The students were asked to both draw and write what they wanted to be when they grow up. In the spirit of art appreciation, I decided to share what I saw in their colorful drawings, and then let them tell us what they had in mind as they created it. Luckily, I escaped the risky exercise without offending any of them.

David Covert:
What I saw was a cowboy roping a bear.
What it really was: "I want to be a crew chief on a cowboy racing team," said David. "The race car will be made out of a log. A friend and I were playing a game where we were making up our own super-heros that weren't on TV and we came up with "Cowboy Ritchie."

Slater Bell:
What I saw was a Transformer guy getting ready to reach his arms into a building and rescue some people.
Was it really was: "Engineer," he said. "I'm already good at it as you can tell by the mechanical arms on the guy in my drawing." As he munched a cookie he said, "I'd redesign this cookie with a red filling instead of the green mint."

Izzy Bixler:
What I saw was a bird pooping on a judge's head.
"No," said Izzy. "That's an eagle on the wall behind the judge and he isn't pooping. I want to be a judge like my Dad."

Frankie Gransden:
What I saw was a cat on a flying table.
"It's just a normal examination table with a cat on it," said Frankie. "I'm a Vet and just doing a normal check up on him. He has fur-balls."

Landy Biffle:
What I saw was a musical note coming out of a chimney and a pond full of frogs.
"It's a school tower with a bell and I'm teaching kids math on an easel and the pond of frogs is a rug."

Kinslee:
What I saw was a lady who when she talked, colorful balloons came out of her mouth.
"I'm a teacher teaching about numbers and all those balloons are my students," she said.

Levi:
What I saw was bats flying around a teepee.
"It's a bottle I filled with colored soap," he said. I shook it up and it exploded all over. I'm just a pretty smart kid." I looked at his friend Lauryn who was standing next to him and she nodded in agreement.

Lauryn Holman:
It looked like a Dr. Seuss creature, to me.
"She is an artist and she's having fun." I thought Lauryn looked a lot like an artist with her curly pony tail and she said it was okay to take a picture sideways and show everyone what I meant.

Hadlee:
It looked like a wind-up musical doll on a table, to me.
"It's me singing," she said. "The spotlights are on me as I sing on a stage. I'm holding a microphone and I'm singing, Gethsemane. It is a Bible song."

You might notice the long-legged work of art. I noticed a few of those and wondered why. Then the Gransden kids ran over when they saw me and hugged my legs. Okay, now I think I get it. We adults mostly look like legs to shorter people.

The exhibit runs thru May 5th, so make sure you don't miss it.

Click on this link for more pictures: Milk & Cookies Art Exhibit & Reception

Thank you Dawn Ballou for sponsoring this story.
Terry Allen: txpartisan@gmail.com

---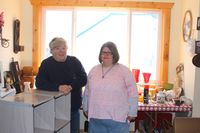 Bev Wals and Kristen Wels spend their next-to-last day as volunteers at Our Lady of Peace's thrift shop.Photo by Joy Ufford.

Catholic thrift shop closes Saturday (posted 4/20/18)
Joy Ufford, Pinedale Roundup
PINEDALE – Three years ago when Bev Wals retired, she and daughter Kristen moved from the heat of Phoenix to Pinedale and settled in very comfortably as volunteers at Our Lady of Peace Catholic Church's thrift shop.

It was opened about six years ago in the older brick home, shed and garage at 128 South Sublette as a means for the Pinedale Council of Catholic Women to raise money to build a new Catholic Church.

"Kathy Larson, Barb Lager and several other volunteers started the shop with the goal of the money going to the building fund for the new church," Bev Wals related as Kristen and Gail Toth looked at knickknacks and talked to a very young customer.

So far, minus some expenses, the shop has raised between $40,000 to $50,000 for the project that now calls for a new hall, classroom and renovated church entrance. In fact, the entire church is being remodeled.

PCCW volunteers knew that eventually, the shop would be closed and its buildings demolished or dismantled.

Twice a week – on Wednesday afternoons and Saturday mornings – the Walses and other volunteers have welcomed customers from nearby neighborhoods to across the country – even out-of-state Midwestern hunters who needed much warmer gear than what they'd brought.

Over the years, the thrift shop has served as social, philanthropic, practical and economical boon for families, collectors, visitors and its next-door congregants. That changes Saturday, April 21, when the thrift shop closes its doors for the final time at noon.

Now even the shelves, displays and tables are being sold and everything is priced almost to give away. Saturday from 10 a.m. to noon, all kids' clothes are free and many items will be nearly free or by donation. The Pinedale Food Basket will take what's left into its store.

The buildings must be empty by May 1 so next week, volunteers including Pinedale High School students will pack things to move. Construction is slated to begin July 1.

"I might just set a lot of stuff in the yard," said Bev, noting 14 folding tables hide under all the donated clothing, shoes, books, cookware, linens and household knickknacks.

Swing by 128 S. Sublette Ave. on Saturday, 10 a.m. to noon (or so), to see what's available.

Anyone interested in any part of the South Sublette buildings, windows or materials should call Brian at Jorgensen Engineering, 307-367-6548.

Joy Ufford, Pinedale Roundup, jufford@pinedaleroundup.com

Related Links:
www.pinedaleroundup.com Pinedale Roundup

---
Donkey Basketball May 7 (posted 4/19/18)
Pinedale High School will be hosting a fun night of Donkey Basket ball on Monday, May 7th. The event is to raise money for the National Honor Society scholarship. It will be from 7-9pm in the Wrangler gym. Tickets can be purchased ahead of time in the Pinedale High School office and Office Outlet in Pinedale. Advance tickets Adult: $8.00, Student (grade 7-12): $6.00, Child (grade K-6): $4.00. Ticket prices at the Gate- Adult: $9.00, Student (7-12): $7.00, Child (K-6): $5.00.

---
Pinedale Senior Class Lasagna Dinner May 10 (posted 4/19/18)
The Pinedale High School Senior Class will be hosting a Lasagna Dinner fundraiser on Thursday, May 10th. The purpose is to raise money for the Class of 2018's "Stay Safe Party" after graduation. It will be from 5-8pm in the Wrangler Cafeteria. Admission is by free-will donation at the door.

---




Pinedale Aquatic Center

Should the Pinedale Aquatic Center be absorbed by SCSD#1? (posted 4/19/18)
Decreased funding causes concerns over sustainability issues
Amber Anderson, Director, Pinedale Aquatic Center
The new year brought a lot of new to the Pinedale Aquatic Center… a new director, a first in PAC's history, followed by a new leadership team in the recreation department to fill the vacated positions from the director changeover, and in the midst of the transition, a new topic of conversation… should the PAC be absorbed by Sublette County School District #1?

To understand the initiation of this conversation, it is important to acknowledge PAC's history. PAC was originally built by Sublette County School District #1, on school district property, to replace the old school pool. A Joint Powers Board was created to oversee the governance of the center with five appointed members; three school district, one county, and one town. A recreation mil was levied by SCSD#1 to fund PAC operations; no other monetary commitments were requested from the town or county. A lease agreement between SCSD#1 and PAC outlined facility obligations and use priorities along with a set annual rental rate to be secured for future asset preservation.

With these parameters established, PAC has operated as its own organization separate from the school district, town, or county. PAC employees are employees of the Pinedale Aquatic Center, governed by the Joint Powers Board, and funded through the SCSD#1 Rec Mil with a small portion attained from membership/program fees.

The problem… decreased oil and natural gas activity = lower mil levy values. For perspective, in 2013, the Rec Mil produced just over $3.8 million, PAC was allocated $3 million. - In 2017, the Rec Mil valued around $1.8 million, PAC was allocated $2 million. With a current operating budget (FY 2017-2018) of just over $2.4 million, following a $1 million budget reduction in fiscal year 2016-2017, the need for further planning for the sustainability of PAC and balancing PAC and Rec Mil budgets became priority. So came the question, should the PAC be absorbed by SCSD#1?

The findings… absorbing the PAC by SCSD#1 did not provide the financial savings originally anticipated. The evaluating committee thoroughly reviewed all options and the impacts of each on current program offerings, hours of public availability, and future growth potential. The decision was made to leave the joint powers board as is, with a few adjustments to the joint powers agreement, to give PAC the opportunity to explore alternative funding and revenue options for securing PAC's long term success.

The results… new protocol was established for the allocation of rec mil funds to ensure asset preservation as well as PAC funding. In the original lease agreement between SCSD#1 and PAC, an annual rent amount of $600,000 was to be paid to SCSD#1 and preserved for future building preservation. Over the past couple of years, rent forgiveness was granted as PAC worked to reduce its overall budget. In efforts to ensure that future major maintenance, repair or replacement of the PAC will be possible, the preservation money will now, in accordance with the amended lease agreement, be set aside directly from the rec mil in an annual amount between $600K-$750K. This will remove rent from the PAC's budget. However this will also reduce the amount of rec mil funds available for PAC funding. As an example, if the rec mil produces $1.8 million, $600,000 will be set aside directly for asset preservation and $1.1 million be allocated to PAC, with the remainder being allocated to other projects funded from this account. In addition, all reserve funds accumulated over the past 10 years, with exception of $400,000 are to be transferred back to the school and secured in the asset preservation fund, approximately $7.5 million.

Under the newly adopted allocation method, PAC is anticipating receiving between $1.1-$1.3 million from the rec mil. After adding our internal revenue, approximately $300,000, PAC will be left with a projected deficit of $200,000-$400,000 even after reducing the budget to under $1.8 million (a near $300K reduction from FY 2017-2018). As a result, PAC has been provided the opportunity to pursue additional funding and revenue options for long term funding security.

What now… overall, we see this unprecedented position as an unique and new opportunity. A second opportunity to define PAC and recreation in the county. We know the strengths of PAC, the value it brings to the county, and now is our chance to rally together to capitalize on it further. With the formation of new partnerships, we envision opportunities to strengthen and improve recreational opportunities in the community and the county.

Our immediate goal is to sustain PAC operations and services that the community has come to love and expect while further developing PAC and recreation in our community. We are working hard on our current budget to minimize reductions to public access hours or elimination of programs, while tightening the purse strings to find that sustainable budget that allows for continued operations. A task force has been developed to brainstorm opportunities, develop a short and long term action plan, and initiate the attainment of additional funds. We are in the process of establishing a "Friends of PAC" 501(c)3 non-profit that will be governed independently by a volunteer board and able to fundraise, accept donations, and apply for grants on behalf of PAC. We will be focusing advertising to attract out-of-county visitors and capitalize on the tourism industry. Conversations with the town and county about the development of partnerships are in the near future.

The question we want to be asked now… what can you do? Watch for our press releases, status of PAC report, and annual report (coming this fall). Come visit, and use, PAC. Participate in our patron survey (coming in early May). Ask questions, let us know what you love most about PAC, and share your ideas. Share PAC with others and engage in the conversation about recreation in the community. PAC has become a staple of Pinedale, a place this community can't imagine living without. We'll be asking for your input in the coming months. We invite you to join the conversation about where we go from here.

Related Links:
www.pinedaleaquatic.com Pinedale Aquatic Center
---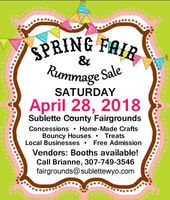 Spring Fair April 28th at the Sublette County Fairgrounds

Spring Fair & Rummage Sale April 28 (posted 4/4/18)
The Sublette County Spring Fair and Rummage Sale will be held at the Sublette County Fairgrounds north of Marbleton on Saturday, April 28th from 10AM to 3PM. There will be vendor booths, bouncy houses, home-made crafts, businesses, concessions and more. Admission is free. Booths are available for vendors. Standard booth size is 10' x 10', but larger spaces, and electricity, are available. Applications are on a first come, first serve basis. Call Brianne for more information, 307-749-3546 or email fairgrounds@sublettewyo.com. Call early to reserve your space! Click here for the vendor booth application form.
---
Local Services:
Abortion Alternatives
Accounting & CPA
Apartments/Townhomes
Arts & Entertainment
Attorneys & Legal
Automotive
Aviation Services
Banks & Financial
Bars
Beauty Salons
Bed & Breakfasts
Boating
Bookkeeping
Builders & Contractors
Building Material
Business Services
Cabins
Cellular
Child Care
Churches
Cleaning Services
Clothing
Commercial Art
Computer Supplies
Condos
Consultants
Convenience Stores/Fuel
Convention/Meeting
Dentists
Dining
Dry Cleaning
Events
Fabric & Crafts
Fencing
Fishing
Flooring
Food & Drink
Funeral Homes
Furniture
Gifts/Western
Government
Graphic Design
Grocery & Market
Guest Ranches & Lodges
Handyman Services
Hardware & Feed
Heating
Health Care & Medical
Horseback Adventures
Insurance
Interior Design
Internet/Web/Advertising
Landscaping
Laundry
Liquor Stores
Lodging
Log Homes
Marketing
Massage Therapy
Modular Homes
Motels
Mountain Biking
Movie Theaters
Museums
Nails
Newspapers
Office Supplies
Oil Field Services
Optometrists
Organizations
Outdoor Equipment
Outfitters & Guides
Packaging & Shipping
Painters
Pet Stores
Pharmacies
Photography
Plumbing
Professional Services
Radio
Real Estate Agencies
Real Estate-FSBO
Remodeling
Retirement
Retreats
RV Camping
Schools
Scrapbooking
Septic Services
Skiing
Snowmobiling
Snow Plowing
Storage and Storage Units
Tanning
Tattoos & Body Art
Tax Preparation Services
Taxidermy
Transportation/Shuttle
Trash Services
Trucking
Veterinarians
Visitor Services