Marbleton home saved from fire (posted 1/17/18)
Timely homeowner discovery and quick fire department response
Sublette County Unified Fire
On January 16 at 4:01 AM, Sublette County Unified Fire Battalions were dispatched to a report of a bathroom ceiling light that was on fire. Unified firefighters quickly responded and extinguished the fire before it was able to spread into other areas of the home. The cause of the fire is still under investigation.

There are two points that Sublette County Unified Fire would like to emphasize:

• The smoke detectors were not reported to be working at the time of the fire. Fortunately the resident heard the noise from part of the light fixture falling from the ceiling and was able to discover the fire and evacuate in a timely fashion. It is critical that all homes have working smoke detectors installed to enhance the safety for all occupants.
• The homeowner had evacuated the residence and left all the doors and windows closed helping to slow the spread of the fire. The act of closing the doors as the homeowner exited the structure helped to minimize the flow of available oxygen to the fire and gave firefighters time to extinguish the fire before it spread.

Sublette County Unified Fire wants to remind residents to periodically check their smoke/carbon monoxide detectors. If you have questions about how to properly install a carbon monoxide or smoke detector, please call Sublette County Unified Fire at 307-367-4550.

Authority
Shad Cooper
Sublette County Unified Fire Chief

---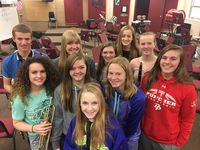 Big Piney and Pinedale High School band students will be performing with The Queen's Cartoonists on January 24th.

Pinedale, Big Piney band students prep for medley with The Queen's Cartoonists (posted 1/16/18)
New York Swing Band to perform in Pinedale Jan. 24th
Pinedale Fine Arts Council
Members of the Pinedale and Big Piney High School bands have been preparing for the past couple of months to join the Queen's Cartoonists on stage at their Wednesday Jan. 24 performance in the Sheppard Auditorium at 7 p.m.

The Queen's Cartoonists are a New York-based jazz/swing sextet dedicated to the music of classic cartoons and swing-era classics.

The Queen's Cartoonists will be performing as part of the Pinedale Fine Arts Council's (PFAC) winter season.

The Pinedale and Big Piney band members will be joining the group to play a Star Wars medley following intermission.

"The Queen's Cartoonists offer a really unique outreach opportunity by working with high school bands to bring students on stage during their show," Tim Ruland, PFAC's Outreach Director said. "So we jumped at the opportunity to make it happen. Travis [Swanson] and Justin [Smith] have done a great job prepping their students and we're really excited to see it all come together!"

Tickets for the Jan. 24 performance featuring The Queen's Cartoonists and members of the Pinedale and Big Piney Bands are available at local PFAC ticket outlets and online at pinedalefinearts.com.

---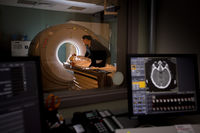 Photo courtesy Sublette County Rural Health Care District

Telestroke Services Program talks in January (posted 1/15/18)
Telestroke Services Program talks in January
Sublette County Rural Health Care District
This month the community is invited to learn about Tissue Plasminogen Activator (TPA), the most commonly used "clot buster" that can be used in the Emergency Room to dissolve blood clots that have suddenly blocked major arteries or veins and pose potentially serious or life-threatening implications.

Sublette County Rural Health Care District will introduce the Telestroke Services Program on Thursday, January 18 at 12:45 pm - 2:00 pm at the Marbleton Senior Center and Wednesday, January 24 at 12:45 pm - 2:00 pm at Rendezvous Pointe in Pinedale. Attendees will learn what Tissue Plasminogen Activator (TPA) is, conditions related to TPA, side effects of TPA, the risks involved with TPA, why it isn't safe for every patient, what our providers require from patients before administering TPA, and survivability of TPA.

"Blood clots are the main cause of heart attacks and strokes," reminds Amanda Key, Practice Manager for Sublette County Rural Health Care District. "TPA works by dissolving major clots before tissue dies from lack of oxygen. Timing is very important when treating a stroke alert in our emergency room. Come learn about this cost effective medicine we offer that saves time and saves lives."

The Telestroke Services Program partners with regional affiliates, Eastern Idaho Regional Medical Center, who supply the District's Tissue Plasminogen Activator (TPA), and with Board Certified Neurologists from the Swedish Medical Group and Blue Sky Neurology, both of Denver, during a stroke alert.

For further information about the upcoming presentations, please contact Amanda Key at (307) 367-0018 or email amandak@sublettehealthcare.com.
---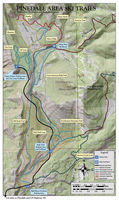 Nordic Ski Trail map courtesy Sublette County Recreation Board.

Nordic ski trail grooming report – Jan. 13, 2018 (posted 1/13/18)
Mike Looney, Groomer, Sublette County Recreation Board
Saturday, January 13, 9:20AM report All trails above groomed this morning. About 8" of new snow yesterday. Road is dry. Sunny and 28F degrees currently at the Nordic Equipment Building, a little breezy, but not too bad. Should be a good ski day.

This Nordic Ski Trail grooming report is courtesy of the Sublette County Recreation Board. For more information, contact Mike at 307-360-8488

Related Links:
X-C Ski Trail Map - (356K PDF)
Road and Weather links
www.visitpinedale.org Pinedale tourism website (lodging, dining, area information)
www.whitepineski.com White Pine Resort, 307-367-6606, (food services, restroom)
www.greatoutdoorshop.com The Great Outdoor Shop, 307-367-2440
www.sublettechamber.com Local businesses & services, 307-367-2242

---
Indoor Triathlon Jan. 20 (posted 1/12/18)
Swim, Bike, Run
The Pinedale Aquatic Center will host their Annual Indoor Triathlon on Saturday, January 20th. Individuals, teams and pairs may register. The entire event is held indoors. Competitors will swim as many laps as they can in 15 minutes, ride a stationary bike as far as they can in 20 minutes, and run as many laps as they can in 15 minutes to determine a score. If an individual feels they are not good in all the events, they can sign up to compete as a relay team of three, or a pair. A point based system determines the score. The event begins at 10AM. Registration is required.

For more information call 307-367-2832 or go online to www.pinedaleaquatic.com.

---
Request for Proposal for flooring replacement in the PAC (posted 1/11/18)
Pinedale Aquatic Center
ADVERTISEMENT FOR PROPOSAL

PROJECT: PINEDALE AQUATIC CENTER FLOORING

OWNER:
Pinedale Aquatic Center
535 N. Tyler Ave.
Pinedale, Wyoming 82941

BID DATE: March 6, 2018

BID TIME: Time 4:00 PM MST

Pinedale Aquatic Center in Pinedale, WY is seeking replacement flooring in the locker rooms and adjacent hallways. Bids will be received at the Pinedale Aquatic Center Guest Services located at 535 N. Tyler Ave., in Pinedale, WY 82941.

RESPONSES WILL BE OPENED 4:00 P.M., Friday March 6, 2018, in the Party Room. LATE SUBMISSIONS WILL NOT BE ACCEPTED.

Request for Proposal criteria and specifications, construction drawings and details may be obtained by contacting Russ Adams, Maintenance Director at 307-367-2832. Questions pertaining to the project should be directed to Russ Adams. PAC shall not be responsible for any oral instructions. Any changes to the RFP will be in the form of an addendum, which will be furnished to all registered RFP holders.

All bids will be evaluated pursuant to Wyoming State Statues 16-6-102 Resident Contractors; 16-6-203, Resident Labor; and Wyoming State Statutes Chapter 16, Article 7 on Construction Contracts. In addition, pursuant to Wyoming State Statues 16-6-104, and 16-6-106, preference is hereby given to materials, supplies, equipment, machinery and provisions produced, manufactured, supplied or grown in Wyoming, quality being equal to articles offered by the competitors outside of the state.

The PAC reserves the right to waive irregularities and informalities in the bidding or in any bid, reject any or all bids without further obligation and to accept any bid deemed in the best interest of Pinedale Aquatic Center. The PAC does not bind itself in any way to accept the low bid. All proposals will be evaluated as outlined in the bid documents.

---
Soroptimist of Sublette County membership meeting Jan 18 (posted 1/11/18)
Soroptomist of Sublette County will hold a membership meeting on Thursday, January 18th at 5:30 PM in the Western Americana Room of the Sublette County Library in Pinedale.

---
Local Services:
Abortion Alternatives
Accounting & CPA
Apartments/Townhomes
Arts & Entertainment
Attorneys & Legal
Automotive
Aviation Services
Banks & Financial
Bars
Beauty Salons
Bed & Breakfasts
Boating
Bookkeeping
Builders & Contractors
Building Material
Business Services
Cabins
Cellular
Child Care
Churches
Cleaning Services
Clothing
Commercial Art
Computer Supplies
Condos
Consultants
Convenience Stores/Fuel
Convention/Meeting
Dentists
Dining
Dry Cleaning
Events
Fabric & Crafts
Fencing
Fishing
Flooring
Food & Drink
Funeral Homes
Furniture
Gifts/Western
Government
Graphic Design
Grocery & Market
Guest Ranches & Lodges
Handyman Services
Hardware & Feed
Heating
Health Care & Medical
Horseback Adventures
Insurance
Interior Design
Internet/Web/Advertising
Landscaping
Laundry
Liquor Stores
Lodging
Log Homes
Marketing
Massage Therapy
Modular Homes
Motels
Mountain Biking
Movie Theaters
Museums
Nails
Newspapers
Office Supplies
Oil Field Services
Optometrists
Organizations
Outdoor Equipment
Outfitters & Guides
Packaging & Shipping
Painters
Pet Stores
Pharmacies
Photography
Plumbing
Professional Services
Radio
Real Estate Agencies
Real Estate-FSBO
Remodeling
Retirement
Retreats
RV Camping
Schools
Scrapbooking
Septic Services
Skiing
Snowmobiling
Snow Plowing
Storage and Storage Units
Tanning
Tattoos & Body Art
Tax Preparation Services
Taxidermy
Transportation/Shuttle
Trash Services
Trucking
Veterinarians
Visitor Services